Nepal Earthquake Update: China Uses Quake To Shore Up Influence With Kathmandu
China Sunday sought to shore up its influence in Nepal, sending a 62-member search-and-rescue team, six rescue dogs and 20.5 tons of relief supplies to the quake-stricken Himalayan nation. The tremor killed more than 2,400 people and injured some 5,400 others.
China also pledged $3.2 million (20 million yuan) to the relief effort, $2.2 million more than the United States. The funds are in addition to the nearly $300 million in economic aid promised earlier this year in what some see as an effort to end India's economic dominance in Kathmandu's affairs, the Hindustan Times reported.
"The Chinese side is willing to offer all necessary disaster assistance to the Nepalese side," Chinese President Xi Jinping said in a message in which he also expressed shock over the disaster.
India, attempting to rebuild its position as a regional power, sent 300 disaster-response personnel and a mobile hospital Saturday, and food, medical supplies and rescue equipment Sunday, the Wall Street Journal reported.
"My beloved brothers and sisters of Nepal, India is with you in your sadness," Indian Prime Minister Narendra Modi said in a radio address Sunday. "India will wipe their tears. We'll hold their hands. We'll support them in this hour of pain."
Michael Hutt, professor of Nepali and Himalayan studies at the University of London, told the Wall Street Journal China and India have been competing for influence in Nepal for decades. India has offered Nepal $1 billion in loans to help build infrastructure and enable India to develop Nepal's hydroelectric-power potential.
Other countries are sending aid and rescue teams as well. In addition to the $1 million pledge, the United States said it was sending a USAID disaster response team. Britain said it was putting together a $7.6 million aid package and Switzerland put together a team of experts that included a doctor, building surveyor and water quality technician, the Associated Press reported.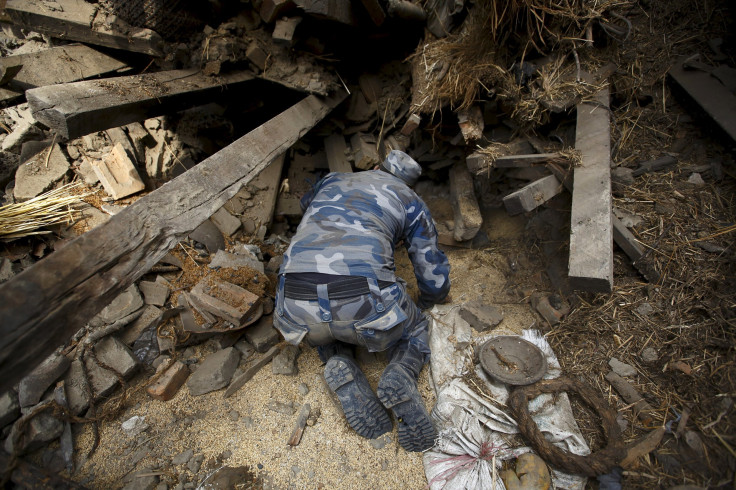 The China National Tourism Administration said 683 Chinese tourists were stranded in Nepal following Saturday's 7.8-magnitude earthquake, Creinglish.com reported. The Chinese embassy asked China Southern Airlines to send extra planes to pick up tourists, with 300 tourists expected to fly out Sunday. Air China is set to carry 195 more while China Eastern already has flown out 230, the official Chinese news agency Xinhua reported.
Civil Aviation Administration of China said Chinese airlines Sunday had completed seven round trips, but a 7.1-magnitude aftershock interrupted operations, forcing three planes to turn back to China. Ten planes remain on the ground in Nepal, Crienglish said.
The quake also affected Tibet, producing aftershocks in Xigaze and Nyalam County of 5.9 magnitude and 5.3 magnitude, respectively. Heavy snow, rain and landslides were reported hampering rescue efforts, Xinhua said. Eighteen were reported killed and 53 injured. So far 12,000 people have been evacuated from Tibet.
© Copyright IBTimes 2022. All rights reserved.
FOLLOW MORE IBT NEWS ON THE BELOW CHANNELS