China's Corruption Probe Could Launch Formal Investigation Against Former Security Chief Zhou Yongkang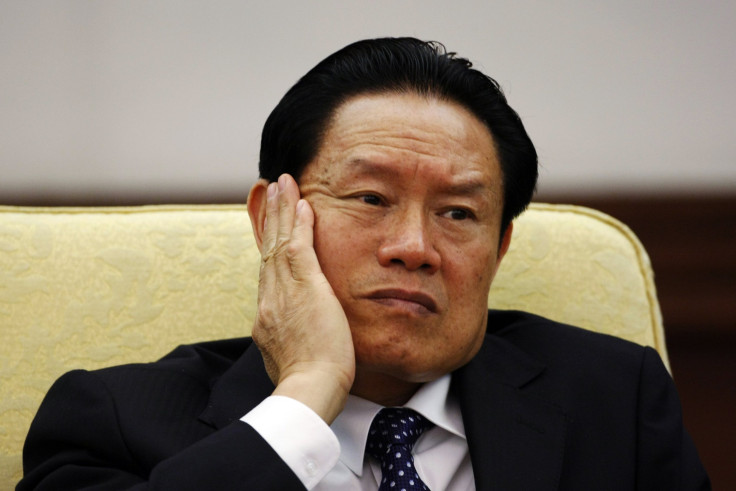 A political consultant in China has for the first time openly hinted that a former security chief could be corralled into the country's ongoing corruption probe, local news reports said Sunday.
News reports, citing a spokesperson for the Chinese People's Political Consultative Conference, or the CPPCC, suggested that an investigation into Zhou Yongkang, who served as the vice minister of the Petroleum Ministry and as the nation's top security official, could bring an end to one of China's most significant corruption probes in decades. Zhou's significant powers as security chief were reportedly diluted in 2012 by the Communist Party as part of its anti-corruption drive.
"Our serious investigation and punishment of party members and cadres, including some senior officials, indicates that what we stated was not empty words. I can only say so much so far. You know what I'm saying," Lv Xinhua, a spokesperson for the CPPCC, said in a press conference Sunday, according to the South China Morning Post, or SCMP.
Zhou, who retired in 2012, has reportedly been under virtual house arrest while the party investigates charges of corruption against him and his colleagues, Reuters reported, adding that putting Zhou on trial might be a double-edged sword because it may reveal some embarrassing facts about China's elite and in turn affect the party's image at home and abroad.
Just last week, the government officially sacked Vice Police Chief Li Dongsheng on corruption charges. Li's exit has intensified speculation among local media that Zhou, the former security chief who supervised China's police force, its civilian intelligence apparatus, the paramilitary police, judges and prosecutors for five years, may face a similar fate, SCMP reported.
At least five people related to Zhou are now being investigated by the party on charges of corruption.
"Since last year, the Central Commission for Discipline Inspection and the Ministry of Supervision have conducted investigations or announced punishment for 31 top officials, including some at ministerial level," Lv reportedly said.
© Copyright IBTimes 2023. All rights reserved.