Netanyahu Calls For Home Destructions Amid Increased Violence In Israel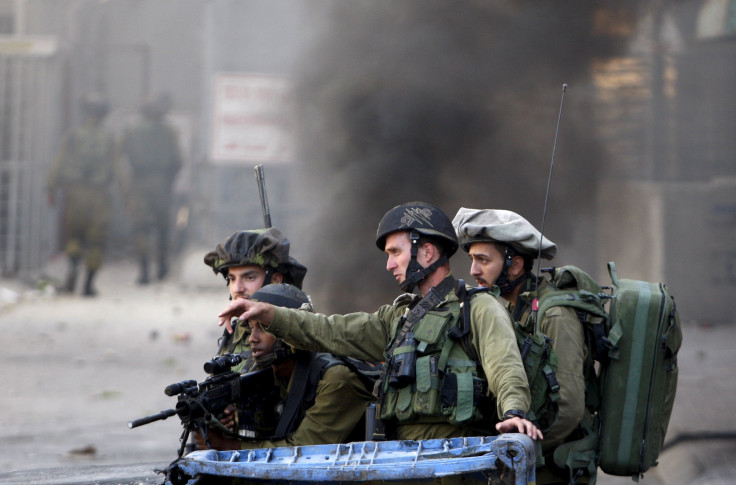 UPDATE 6:55 p.m. EDT: An 18-year-old Palestinian man was fatally shot by Israeli police in a clash in Tulkarem in the occupied West Bank Sunday, Agence France Presse reported, citing medics and Palestinian police sources.
Amid a spike in tensions between Israelis and Palestinians, there were a number of such outbreaks in the West Bank late Sunday and early Monday, local time. AFP reported the 18-year-old, Huzeifa Othman Suleiman, was the first Palestinian to be killed in the recent clashes, following the killing of two Israelis Saturday.
UPDATE 6:15 p.m. EDT: Clashes broke out early Monday, local time, between Israel security forces and Palestinian protesters, the Jerusalem Post reported. In a number of incidents, Palestinians reportedly threw rocks at security forces, who fired rubber bullets in an attempt to break up crowds. The largest incident happened in Abu Dis, east of Jerusalem, Sunday when 250 Palestinians clashed with security personnel, reportedly throwing rocks and "fire bombs."
Earlier in the evening two rockets had reportedly been fired from the Gaza Strip, aimed at Israel, Hareetz reported. One landed in an open area while the other exploded within the strip.
Orginal story:
Following a meeting with top security officials, Israeli Prime Minister Benjamin Netanyahu expedited an order calling for the "demolition of the homes of Palestinian terrorists," Israeli newspaper Hareetz reported Sunday. The demolition instruction comes amid an uptick in violence in the country and growing tensions.
Netanyahu said Israel was "waging a fight to the death against Palestinian terror," according to Agence France-Presse. "These steps include, among others, speeded up demolition of terrorists' homes."
Netanyahu said he instructed his security officials on steps to "to prevent terror and deter and punish the attackers," according to AFP. Those planned steps included more expansive used of detention without trial for suspects, the addition of more security forces to Jerusalem and the West Bank, and keeping "inciters" away from the Al-Aqsa mosque compound, which has become a flash point for tensions between Palestinian protesters and Israeli police.
Earlier Sunday Netanyahu spoke in a similar tone before his meeting with security officials. The prime minister said he would wage "a harsh offensive against Palestinian Islamic terrorism," according to the New York Times.
A string of attacks have killed four Israelis in the West Bank and the Old City of Jerusalem. Early Sunday morning, a 15-year-old Jewish boy was stabbed by a 21-year-old Palestinian man, who was then fatally shot by Israeli police, the Times reported.
"We are in an all-out war against terrorism and we will wage it aggressively," the prime minister wrote in a Facebook post while traveling back to Israel from a visit to New York and the United Nations.
The Israeli military took an unprecedented step by closing the Old City to nonresident Palestinians after the most recent attacks, which killed a rabbi and an off-duty soldier, according to the Guardian. Jerusalem's Old City was shut off during the second part of the Jewish holiday of Sukkot.
"This is a drastic measure that's being taken in order to make sure there are no further attacks during the Jewish festival, where you can see thousands of people visiting the Old City," Israeli police spokesman Micky Rosenfeld told the Guardian.
© Copyright IBTimes 2023. All rights reserved.