Netanyahu Statement: As Some Troops Pull Out, Israel Will "Continue To Act In Full Scale" In Gaza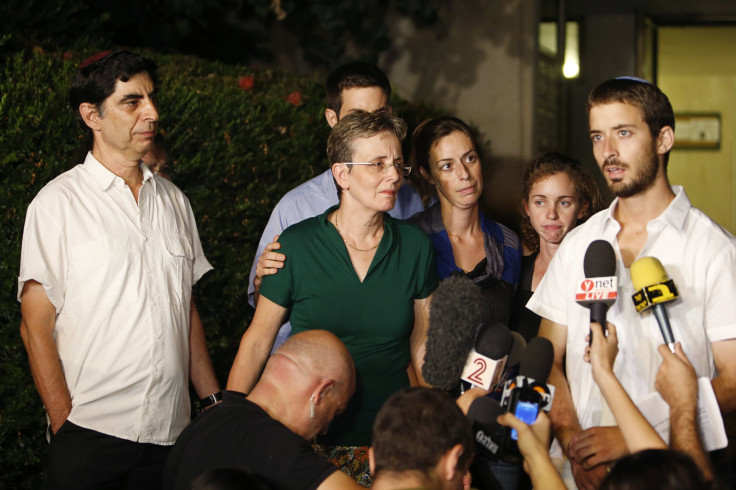 After 26 days Israel's Operation Protective Edge operation will "continue to act in full scale" in Gaza, Prime Minister Benjamin Netanyahu said. After every tunnel is destroyed, Netanyahu said Israel will "regroup" and continue the operation according to its security needs. A cease-fire is pretty much off the table.
"We promise the citizens of Israel to bring back calm and order, and we will continue to operate until this goal is reached no matter how much time it takes," Netanyahu told a press conference Saturday.
Netanyahu added the Israeli military has already destroyed thousands of "terror targets." Thirty-one tunnels have already been dismantled. He congratulated troops on performing such a "complicated" operation.
A Hamas spokesman in Gaza told Ma'an News Agency any unilateral withdrawal or redeployment will be met with an appropriate response from Hamas' military wing.
"They either stay in Gaza and pay the price, unilaterally retreat and pay, or negotiate and pay." Hamas spokesman Sami Abu Zuhri said.
Netanyahu's announcement came just as Israeli media reported that some troops were leaving cities in Gaza and redeploying inside Israel. Earlier Saturday, residents of northern Gaza were told it was safe to return home but to keep away from borders.
The family of 2nd Lt. Hadar Goldin urged Israel not to leave Gaza without their son.
"I'm a battalion commander; I've been in the reserves until I was 50 and can't imagine the [army] to forsake its fighter," said Dr. Simcha Goldin, Hadar's father.
Goldin has a twin brother who is also in the army.
"I demand the state of Israel not to leave Gaza until it brings my boy back home," Goldin's mother said. "Hadar is Zur's twin, Zur's second half. They both serve in the same place. I demand the state of Israel not to forsake my child, and not to forsake any child who went out to defend Israel."
Hamas' military wing released a statement earlier on Saturday claiming the soldier might have been killed during Israeli military strikes as they lost "lost contact" with the brigade that would have captured him.
The soldier's alleged capture came during what was supposed to be a 72-hour cease-fire. Israel and the Obama administration blame Hamas for violating the truce. Hamas claimed any proposal that constituted a continued presence of Israel in the Gaza is not something to which they would have agreed.
"A truce is a truce, but the presence of the Israeli forces inside Gaza and destroying the tunnels means it's an aggression," Hamas leader Khaled Meshaal told CNN. "The Palestinian resistance has the right to self-defense and the right to deal with the invading Israeli forces who are inside our Gaza territories."
After a night and day of intense shelling, the death toll has surpassed 1,660 Palestinians with at least 8,000 wounded and more than a quarter of the strip's population displaced. Sixty-three Israeli soldiers have died.
© Copyright IBTimes 2023. All rights reserved.