New Aaron Hernandez Jail Letter: Odin Lloyd Murder Suspect Tells Fan He's 'A Great Dude,' Discusses Daughter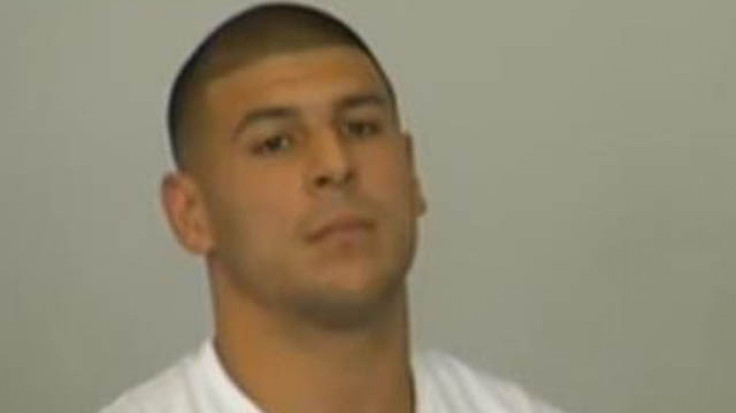 Former New England Patriots star Aaron Hernandez has released another jail letter while he awaits trial for his alleged role in the Odin Lloyd murder.
The new prison letter, which was originally obtained by Radar Online, is the third such document released by Hernandez since being arrested on charges of first-degree murder. In the note, Hernandez tells an unnamed fan that he's a "great dude," and that his biggest fear is that his young daughter will grow up without knowing him.
"I miss my little girl terribly and my biggest fear of all is she won't know daddy!" Hernandez wrote in the jail letter. "She said daddy first time or should I say "DaDa" and had to hear it from jail [sic]."
Hernandez added that he considers himself a good person whose actions and personality have been misconstrued by the media. "I'm a great dude," Hernandez wrote in the prison letter. "Don't believe all the [negative] publicity please! Media is the negative of fame!"
The 23-year-old's first daughter, named Avielle Janelle Hernandez, was born last November, the New York Daily News reports. She is Hernandez's first and only child with Shayanna Jenkins, his high school sweetheart and current fiancée. Jenkins has also been investigated by police for her potential role in hiding the gun that Hernandez allegedly used to kill Lloyd, but she has yet to face any formal charges.
Hernandez's first prison letter leaked to the public on Aug. 2, after the recipient sold the letter to TMZ. In that document, Hernandez condemned what he described as the prosecution's "false accusations" regarding his role in Lloyd's murder, and claimed that the charges "will all die down, especially when they say 'Not Guilty.'"
"I know everything happens for a reason and I know 'God' has a plan for me and something good will come out of this," Hernandez wrote in the prison letter. "I've always been a great person an [sic] known for having an amazing heart!"
The former Patriots tight end was arrested on June 26 in connection with the alleged murder of Lloyd, a 27-year-old semi-pro football player and apparent acquaintance. He is currently being held without bail in a Bristol County House of Corrections cell, the New York Daily News notes.
© Copyright IBTimes 2023. All rights reserved.