New Debris Sighted By Australian Aircraft Offer New Hope During Search For Malaysia Flight MH370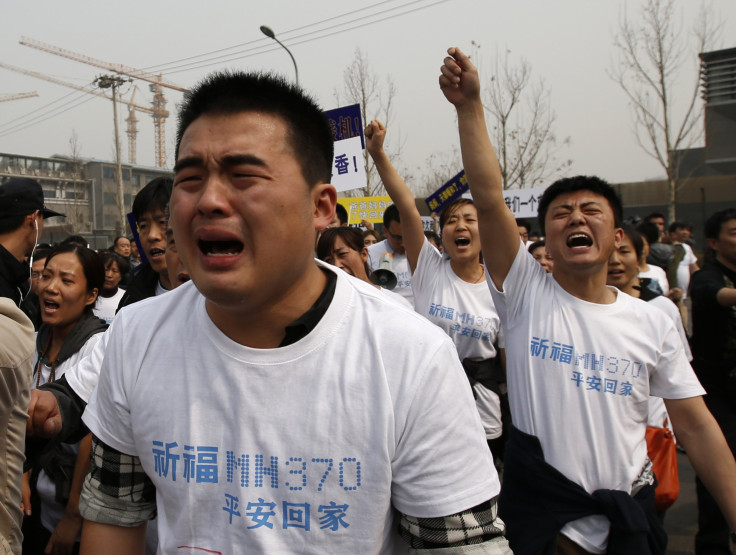 As Chinese relatives of Flight MH370 passengers demanded answers from Malaysia regarding the fate of those onboard, the search for the missing Boeing 777 led to some new clues, CNN reported.
With weather conditions ideal, the crew of an Australian aircraft spotted four orange objects in the water west of Perth, according to the news site.
The debris was detected, photos were taken and coordinates were sent in, but Flight Lt. Russell Adams said the crew wasn't able to determine whether the objects were from the missing airliner, which many officials believe went down in the southern Indian Ocean.
Authorities will reportedly analyze the images of the debris and then make a decision about sending a ship to the debris location.
Adams called the sighting of the four objects one of the "most promising leads" so far in the hunt for the missing airliner.
"We are searching a vast area of ocean, and we are working on quite limited information. Nevertheless, the best brains in the world are applying themselves to this task. ... If this mystery is solvable, we will solve it," Australian Prime Minister Tony Abbott told reporters on Monday.
Abbott wouldn't say how long the search for the lost jet could take. He spoke at the Royal Australian Air Force base, where search teams have been headquartered, according to CNN.
"We can keep searching for quite some time to come. We will keep searching for quite some time to come. ... The intensity of our search and the magnitude of our operations is increasing, not decreasing," Abbott said.
Officials said that objects picked up by ships on Saturday were actually fishing equipment and other debris.
© Copyright IBTimes 2023. All rights reserved.
FOLLOW MORE IBT NEWS ON THE BELOW CHANNELS