New England Patriots News: Rookies Chandler Jones and Dont'a Hightower Help Improve Defense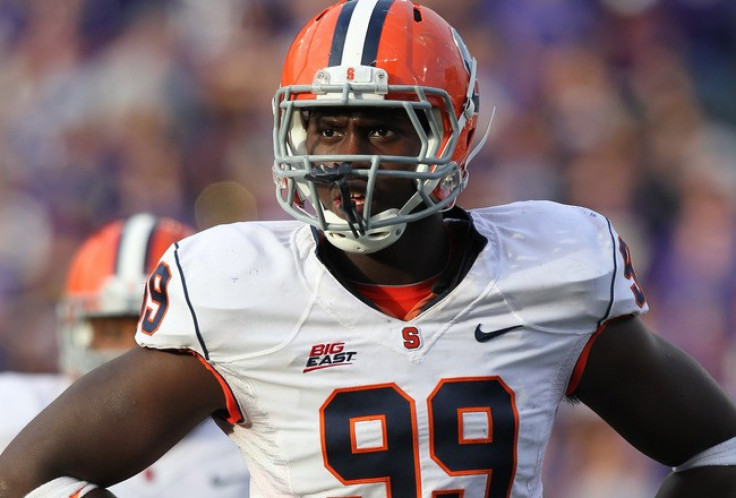 Having Tom Brady has helped the Patriots overcome their shortcomings on the defensive side of the ball. New England had the league's second worst defense in 2011, but still managed to almost win the Super Bowl.
The Patriots, however, pride themselves on winning, and need to improve their defense if they want to win their first Super Bowl since 2004. While it's not fair to put all the blame on New England's defense for their second straight Super Bowl loss, it definitely was crucial for the organization to find ways to improve the defense, since being second to last just will not cut it.
In this year's draft, the Patriots appeared to have, yet again, drafted one of the best classes in the league.
In the first round, after picking up numerous picks through various trades, the Patriots managed to land Chandler Jones and Dont'a Hightower.
A defensive end at Syracuse, Jones was a defensive star all season as he displayed unusual quickness for his size, and an ability to bring headaches to any opposing tackle. He can be effective on both the strong and weak sides of the field, and will almost always get enough separation to watch plays develop.
Jones provides the threat and immediate rush that has been missing in New England, and he is a favorite to win Defensive Rookie of the Year.
Hightower, who surprised the Patriots by falling so late in the first round, was a universal linebacker at Alabama, and has shown his ability to rush off the edge as a defensive end. He has great footwork, and is known for his explosiveness.
In his senior season last year, Hightower accumulated 83 tackles and four sacks, and was named a first-team All-American. He also made the first-team All-SEC.
The framework behind these two draft picks, that makes the Patriots' selection so special, is the fact that both of these young talents are good enough, and fast enough, to take the field right away. With the rush from Jones, and field vision of Hightower, the Patriots will become much better on the defensive side of the ball, and will once again remain a progressing threat in the NFL.
The Patriots open up their regular season in Tennessee on Sept. 9 en route to return to the Super Bowl.
© Copyright IBTimes 2023. All rights reserved.
FOLLOW MORE IBT NEWS ON THE BELOW CHANNELS