New Images Show Moskva Listing And On Fire; Debate Rages Over Crew Parade Video
KEY POINTS
An image shows the Slava-class cruiser tilting to its side
Another picture shows smoke emanating from Moskva
The image shows major damage on the side of the ship

New images have emerged showing the severely damaged vessel Moskva, the flagship of Russia's Black Sea Fleet, amid conflicting reports about how the vessel sank.
While an image shows the Slava-class cruiser listing toward the port side, another shows the ship on fire, smoke emanating from it. Both images were doing rounds on social media Sunday.
Though there is no official verification about the images, open-source intelligence analysts and trackers suggest that the photos appear to be authentic. International Business Times could not independently verify the images.
Ukraine claims the 40-year-old cruiser was hit by a Neptune anti-ship missile in the Black Sea. The Pentagon too has confirmed Ukraine's account of the casualty. A day later, Russia announced it had lost Moskva after it sunk while being towed to the port after an explosion.
The new images reportedly match closely with the previous images of Moskva and with the Ukrainian version of the vessel's sinking. According to The Drive, the damage to the vessel is clear with what appears to be a major scaring on its side, precisely where most anti-ship cruise missiles are supposed to hit. There is also damage below the water level.
Near the area where the missile struck are P-500 or P-1000 anti-ship missiles in their armored launch tubes. The detonation of these missiles could cause major destruction, as well. The upper hull edges are seen scorched, which hints at fire damage inside. There are also suggestions that life rafts have been deployed. A couple of water cannons can be seen still running on the ship while two streams of water behind the ship may be from the monitors of a firefighting tug, said reports.
However, there are some discrepancies too. Though Russia claims the ship sank while being towed back to her homeport of Sevastopol, the image hints at a calm sea. That said, it isn't clear when the images were taken and the weather could have changed throughout the day. Also conflicting is the fact that the cruiser does not appear to be making way undertow, as maintained by Russia.
This comes as Russian Defense Ministry recently published a video showing the meeting of Admiral Nikolai Yevmenov, Commander-in-chief of the Russian Navy, with the crew members of Moskva. While the 26-second video shows Yevmenov and two other officers standing outside in front of around 100 sailors on a parade ground, it provided no other details, triggering debates about the veracity of the video.
Defense analyst H I Sutton posted on Twitter that he doesn't believe the footage was old. The footage showed that the captain was alive and there were 240 crew members in the video, "so around 50 percent dead or injured," Sutton added. Many had reportedly claimed the video was fake and taken a year earlier.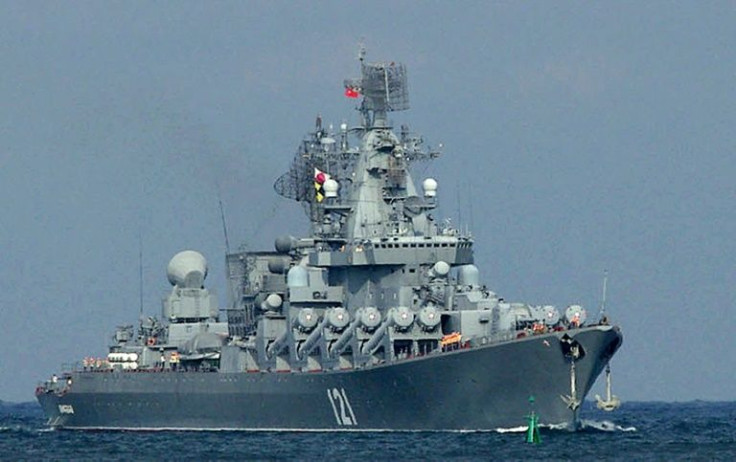 © Copyright IBTimes 2023. All rights reserved.