New Quebec party could marginalize separatists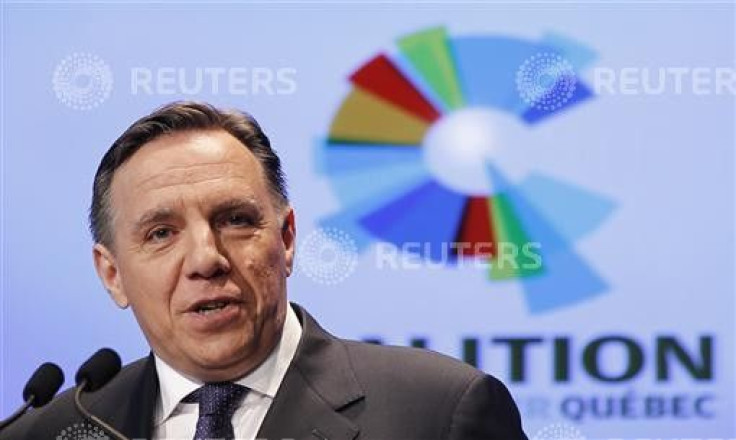 (Reuters) - A senior Quebec politician, fed up with decades of arguments over whether the province should separate from Canada, launched his own party on Monday, with polls showing he would easily win an election now.
Francois Legault, a former separatist, said his center-right Coalition Avenir Quebec (CAQ), or Coalition for the Future of Quebec, would focus on improving the economy rather than discussing independence.
Quebec can do better. Quebec can and must be richer, Legault said at the party's launch.
Despite the initial enthusiasm there is no guarantee the CAQ will prove a lasting influence in the predominantly French-speaking province, where voters are notoriously volatile.
Opinion polls show the CAQ would beat the ruling Liberals and the separatist Parti Quebecois (PQ), which are both hampered by unpopular leaders.
Previous PQ governments held referendums in 1980 and 1995 about breaking away from Canada. Both failed.
Legault complained that Quebec politics had been obsessed with separatism for decades.
Ever since I've had the right to vote I have only ever been able to express myself on this one single question, he said. Yet in a democracy we need to be able to talk about education, healthcare, the economy and a lot of other topics that concern us.
The Liberals of Premier Jean Charest won a slim majority in December 2008 and do not need to call an election until 2013.
Last month, the Liberals bowed to two years of pressure and announced a probe into allegations of corruption in the construction industry.
Charest's long refusal to launch an inquiry, despite lurid media headlines about the industry, helped push down the Liberals in the polls.
PQ leader Pauline Marois is fighting an insurrection by senior figures in the separatist movement who say she is not up to the job of securing Quebec independence.
(Reporting by David Ljunggren; editing by Rob Wilson)
© Copyright Thomson Reuters 2023. All rights reserved.