New Visa Requirement For Syrians Entering Lebanon, Amid Worldwide Refugee Crisis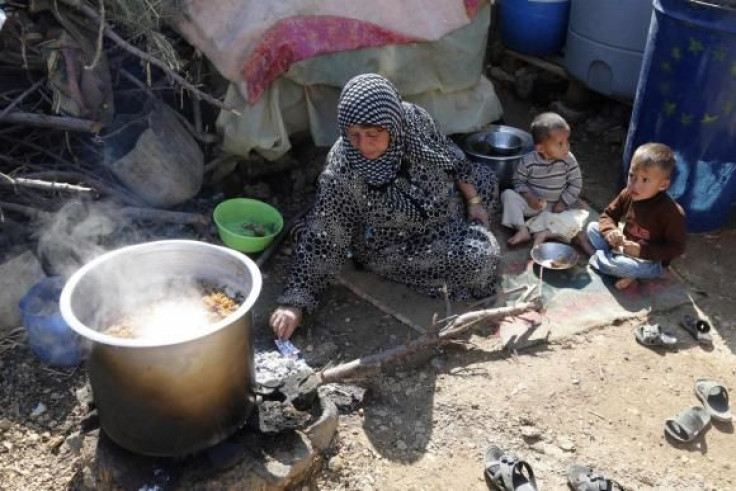 Syrians will soon need visas to cross into Lebanon, amid the world's worst refugee crisis since World War II. Neighboring countries are carrying heavy burdens as more than 3.2 million registered Syrian refugees are now living in the region. And, like Jordan and Turkey, Lebanon is particularly inundated by the growing numbers, the New York Times reported.
While Turkey has taken steps to incorporate the more than 1 million Syrians seeking asylum in the country by providing access to education and social services, Lebanon and Jordan are taking steps to restrict the flow of Syrians across their borders, Reuters reported.
Jordan has not blocked unrestricted entry, but the country recently announced it will no longer provide health care for the 623,000 registered refugees. Meanwhile, new restrictions in Lebanon are set to begin Monday, the New York Times said.
Beginning then, Syrians can apply for one of six types of entry visas in Lebanon: business, medical, student, tourist, transit and short stay. However, there will be no refugee entry visa, according to the Daily Star in Lebanon. A Syrian can also enter the country when sponsored by a Lebanese citizen, the New York Times reported.
"Across the region, there are various measures being taken by host governments that are restrictive on refugees," Ron Redmond, a senior representative of the United Nations High Commissioner for Refugees, or Unhcr, told the newspaper. "We understand the reasons they cite for doing this, but at the same time our job is to ensure the refugees aren't pushed back to someplace where they may be in danger."
After an uprising against President Bashar Assad in March 2011, Syria has been battered for nearly four years by a civil war that has killed almost 200,000 people. The conflict has internally displaced 7 million Syrians and forced millions of others to flee the country, according to Reuters. Lebanon is the most popular escape for Syrians, the New York Times reported, with the country's capital city, Beirut, just a two-hour drive from Syria's capital of Damascus.
Lebanon, with a population of just 4 million citizens, has been overwhelmed by 1.1 million refugees who are registered with the U.N. and an estimated 500,000 refugees who are not registered with the international organization. The rising number of Syrian refugees, a majority of whom are Sunnis, threaten to disrupt Lebanon's balance between relatively equal-size Sunni and Shiite minorities. The total number of Syrian refugees in the region is believed to be much higher than the official number, according to the Times.
Observers say the new restrictions in Lebanon will not only make it harder for Syrians to enter the country, but also will bring immense fear to those who already live there. "Such deportations create an environment of fear that affects all refugees," Nadim Houry, deputy Middle East director at Human Rights Watch, told the Daily Star in Lebanon Friday.
"People cannot move around freely anymore," Omar Ghannoum, who works for an international aid organization that offers legal advice to Syrian refugees, told Germany's broadcaster Deutsche Welle in June. "They live in permanent fear of being caught by the police. They tend to stay at home, which means that they cannot go to work, and cannot pay their rent. It's a vicious circle."
However, not all Syrians leave their home country for the same reason. "For example, a mother may risk her life to travel to Syria with a child for cancer treatment, which is cheaper there," Dana Sleiman of Unhcr in Beirut told Deutsche Welle in June. "The Unhcr does not pay for cancer treatment."
Visas are not required for Lebanese to enter Syria. Lebanon's registered arrivals in November dropped 75 percent since the summer -- a sign that many refugees are either turned away at the borders or are afraid to cross due to the new restrictions, according to the New York Times. "We don't know where they are going," Unhcr's Redmond told the Times Friday. "But there have certainly got to be a lot of desperate people."
© Copyright IBTimes 2023. All rights reserved.
FOLLOW MORE IBT NEWS ON THE BELOW CHANNELS