New York governor cuts his own pay 5%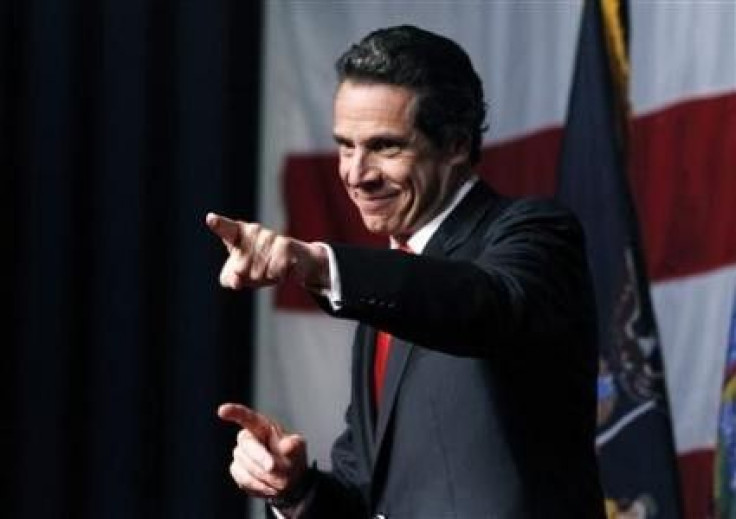 In yet another example of a cash-strapped state seeking to alleviate a crushing budget deficit, the newly-elected governor of New York, Andrew Cuomo, has slashed his salary by 5 percent and may seek to freeze salaries across the state for one year.
Cuomo, whose pre-reduction salary was $179,000, also cut the take-home pay of other top state officials, including Lt. Gov. Robert Duffy.
New York is facing a budget gap of about $9-billion for fiscal 2012 which commences April 1.
Cuomo also plans to revise the state's costly Medicaid program and created a commission to reduce the number of state agencies by 20 percent.
According to the Center on Budget and Policy Priorities, the 50 states of the Union are burdened by a combined deficit of about $140-billion for the fiscal year 2012.
For New York, the picture gets even more dire. According to the National Conference of State Legislatures, the budget gap is expected to widen to $14.6 billion in fiscal 2013 and $17.2 billion in fiscal 2014.
Change starts at the top and we will lead by example, said Cuomo. "We can turn this crisis into an opportunity" and "use this moment to transform government."
Regarding the imminent pay freeze for state employees, Cuomo explained that we must freeze salary increases for state workers for one year as part of our emergency financial plan. We will freeze salaries while the state takes other measures to get spending in line and recover from the current financial emergency.
Major states across the country are facing similar problems. The Illinois state government passed massive income tax hikes; and California (which projects a budget gap of more than $19-billion) is seeking tax hikes and harsh spending cuts.
© Copyright IBTimes 2022. All rights reserved.
FOLLOW MORE IBT NEWS ON THE BELOW CHANNELS