New York Times Launches 'The Lively Morgue' Tumblr, Posts Old Photos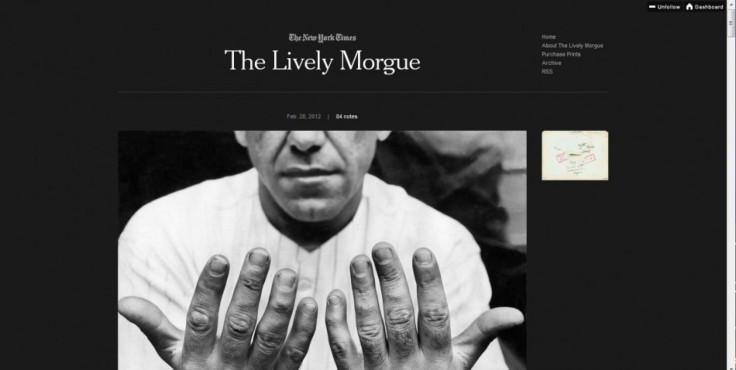 The New York Times has covered the most monumental events in modern history--the moon landing, JFK's assassination and beyond--which is why it makes sense that the paper has started a Tumblr page to host many of its unused photos.
Under the moniker The Lively Morgue, the New York Times photography department will be posting unpublished photos onto the Tumblog. The site launched this Monday, and its editors plan to post photos several times a week.
Next to each photo on the site is a button that flips the picture around. Viewers can take a good, hard look at the back of the photograph. There's also a link to order prints of any of the photos.
While it's true that The Times didn't always use photos to best advantage, it was in the game beginning in 1896, when it first published an illustrated Sunday magazine, says The Lively Morgue. By the time of the First World War, readers were seeing extraordinary images every week of the conflict ravaging Europe. Early in the 20th century, The Times even had its own picture agency, Wide World Photos.
The explanation in the About Us section of the site explains the depth and : If we posted 10 new archival pictures every weekday on Tumblr, just from our print collection, we wouldn't have the whole thing online until the year 3935.
Since they won't be posting every single photo in the archive, they'll be settling instead for a handful a photos as they digitize as much of the morgue as possible.
We're eager to share historical riches that have been locked away from public view, and have been awaiting a platform like Tumblr that makes it easy to do so, says The Lively Morgue. We hope you'll enjoy the serendipity of discovery, that you'll know something of the thrill we feel when we unlock the door of the morgue and walk into a treasure house made of filing cabinets, index cards, manila folders and more 8-by-10s than anyone can count.
© Copyright IBTimes 2023. All rights reserved.
FOLLOW MORE IBT NEWS ON THE BELOW CHANNELS