New York Yankees Rumors: Texas Rangers Interested in Miguel Andujar, Yanks Want Blake Treinen
New York Yankees third baseman Miguel Andujar has moved to the center of a trade rumor with Texas Rangers as he recuperates from a season-ending labrum tear that kept him out of action for most of the year.
The Yankees have been actively pursuing top free-agent pitchers Gerrit Cole and Stephen Strasburg but industry watchers have their eyes on the Dominican player who finished second in the race for the 2018 AL rookie of the year.
According to T.R. Sullivan of MLB.com, the Texas Rangers are interested in Andujar, who was replaced by Gio Urshela after his injury in April. At age 24, Andujar has much room to improve and he is still in a very team-friendly contract.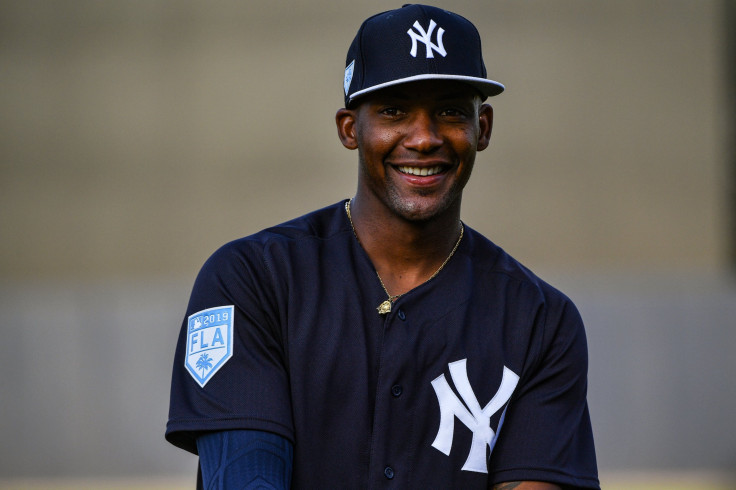 That makes him attractive to the Rangers, who have a real need at the hot corner. Though they are still keeping tabs on Josh Donaldson and Anthony Rendon, both players will command large salaries on the free-agent market. Getting a player like Andujar would leave the organization with money that can go to other areas.
The Yankees, meanwhile, are open to talks but don't really need to move Miguel Andujar. The Bombers are known to want another arm to help the bullpen as Dellin Betances is now a free agent, and the Rangers have some depth there.
Speaking of relievers, the New York Yankees are reportedly interested in Blake Treinen of the Oakland Athletics, according to Ken Rosenthal of the Athletic. The A's are a small-market team who are always looking to keep their payroll low and the right-handed Treinen is arbitration eligible.
The former All-Star won his arbitration case last offseason against his employers and received $6.4 million in salary for the 2019 campaign. He could command a costlier tag but no more than $7.5 million, still making him affordable.
That doesn't mean that Billy Beane wouldn't listen to an offer for the player to trim the fat. The Bombers would have to be careful of the luxury tax implications as they are already near the upper reaches of their 2020 budget. But that could be offset by sending another player's salary the other way in a trade.
© Copyright IBTimes 2023. All rights reserved.