New York Yankees vs. Oakland Athletics: 2018 AL Wild Card Prediction, Betting Odds For Playoff Game
On Tuesday afternoon, just 32 hours before the 2018 American League Wild-Card Game, New York Yankees' manager Aaron Boone announced that Luis Severino will start in Wednesday night's do-or-die contest. Despite speculation that J.A. Happ or Masahiro Tanaka would get the call, New York will put their fate in the right-hand of the 24-year-old against the Oakland Athletics.
Severino will take the hill one year to the date of last season's AL Wild-Card Game. The Yankees defeated the Minnesota Twins 8-4 to start a playoff run that lasted until Game 7 of the ALCS, though New York's ace nearly prevented the team from even reaching the ALDS. Severino didn't make it out of the first inning, recording just one out and allowing three runs to Minnesota before being pulled from the game to a chorus of boos from the Yankee Stadium crowd.
Just like last year when Severino finished third in the AL Cy Young voting, he had the best overall numbers of any Yankees' starter in the 2018 season. He finished third in the league with 19 wins while ranking in the top 10 in ERA, WHIP and strikeouts.
But Severino's tumultuous second-half put his spot as the Yankees' wild-card starter in jeopardy. He posted a 5.57 ERA with a .291 opponents' batting average after the All-Star break. That includes a Sept. 5 start in Oakland that saw Severino surrender seven baserunners and five earned runs in 2.2 innings.
Since losing to the A's, Severino has looked more like his old self. In three starts against the Twins, Boston Red Sox and Tampa Bay Rays, the right-hander never allowed more than two earned runs or pitched fewer than five innings, posting a 2.04 ERA and giving New York confidence that they could trust their No.1 starter.
"I think he's ready for this," Boone told reporters Tuesday. "He'll be pitching with plenty of rest. I feel really comfortable going with Sevy and think he'll get us off to a good start."
Oakland won't send a traditional starting pitcher to the mound against New York in the first inning. Reliever Liam Hendriks will open the Wild-Card Game for the A's after pitching to a 1.38 ERA in September. Hendriks never pitched more than two innings in a game after he was called up to the majors in the final month of the regular season. He pitched a perfect first inning when he faced New York on Sept. 4.
In a winner-take-all game, expect the two bullpens to ultimately decide Wednesday's contest. Severino won't have a very long leash, and he could be removed at the first sign of trouble.
The A's finished the regular season ranked second in the AL with a 3.37 ERA from their bullpen. The Yankees were right behind them with a 3.38 ERA. Yankees' reliever Dellin Betances was second among AL relievers with 115 strikeouts, and three other New York relievers finished in the top 13. Oakland closer Blake Treinen had 38 saves with a remarkable 0.78 ERA. Relievers Ryan Buchter, Lou Trivino and Yusmeiro Petit combined to throw 206.1 innings for a 2.92 ERA.
Happ and Tanaka will be on New York's roster and available to pitch out of the bullpen. Starter Trevor Cahill could also be an option for the Athletics.
Whatever pitchers take the hill for Oakland could have trouble with New York's lineup, which has gotten hot at the right time. Giancarlo Stanton has three home runs and seven hits in his last 12 at-bats. Aaron Judge hit his first home run since coming off the disabled list in the final series of the season. Before game No.162 when nothing was on the line, the Yankees scored at least seven runs in five straight games.
Despite struggling to score runs at times, New York has the second-best offense in baseball. The lineup is finally healthy, and the addition of Andrew McCutchen at the end of August has bolstered the offense. Look for the Yankees to put up runs early like they did in the 2017 AL Wild-Card Game.
New York's home-field advantage was evident last postseason when the team went a perfect 6-0 at Yankee Stadium. The Yankees went 53-38 at home this season, posting an .819 OPS in the Bronx.
Severino might not exactly give the Yankees the length that an ace usually does, but his last few performances suggest that he could have success early. If the right-hander can even give New York a handful of scoreless innings before turning it over to the bullpen, the Yankees could be on their way to an ALDS matchup with the Boston Red Sox.
"I was too excited," Severino said of his playoff debut last year. "It was a good experience. Now I'll take that tomorrow and try to treat that game like a regular game."
Prediction: New York over Oakland, 7-2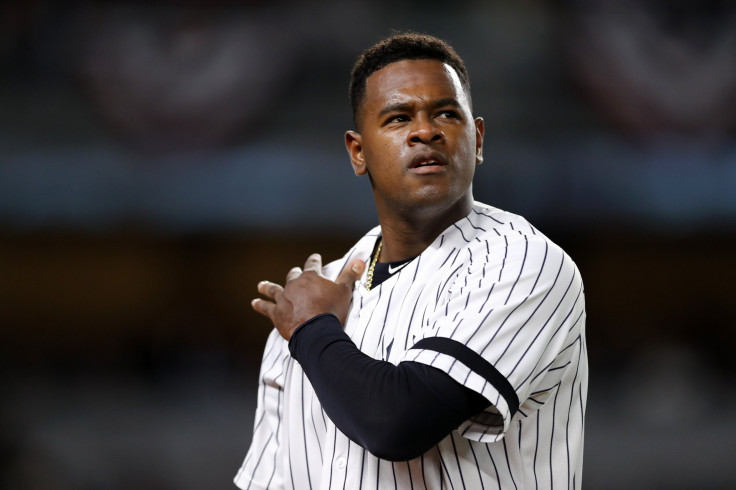 © Copyright IBTimes 2023. All rights reserved.