NFL Announces New Domestic Violence Penalties: 6-Game Suspension For 1st Offense, Possible Lifetime Ban For 2nd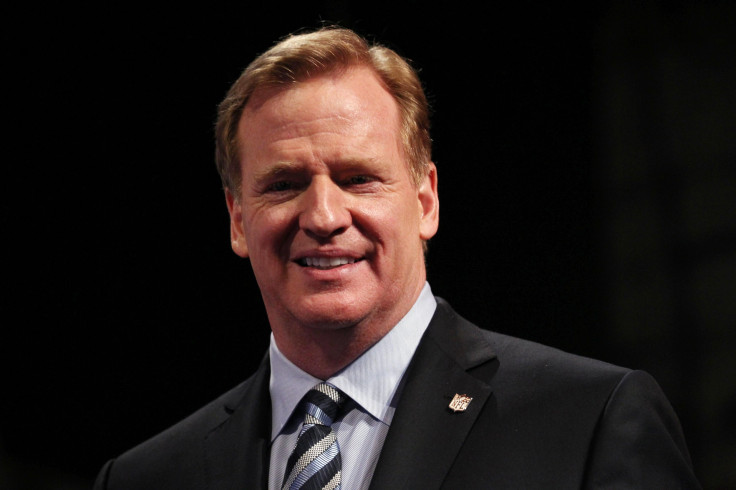 National Football League Commissioner Roger Goodell announced Thursday that the league has enacted sweeping changes to its disciplinary policy in regard to domestic violence cases. Goodell also said the league office mishandled the case of Baltimore Ravens running back Ray Rice, who was suspended for just two games in July after knocking his fiancée unconscious during a February dispute in Atlantic City.
Under the new guidelines, any NFL employee who is found to have engaged in domestic violence will receive a six-game suspension for a first offense and an indefinite suspension for a second offense, Goodell said in a letter to owners. Individuals who receive an indefinite ban will have the opportunity to appeal the decision after one year, but without a guarantee of reinstatement, ESPN's Jane McManus reports.
Goodell admitted that the NFL's previous attempts to punish such offenses "[fell] short."
"My disciplinary decision led the public to question our sincerity, our commitment, and whether we understood the toll that domestic violence inflicts on so many families," he wrote, via USA Today. "I take responsibility both for the decision and for ensuring that our actions in the future properly reflect our values. I didn't get it right. Simply put, we have to do better. And we will."
"These steps are based on a clear, simple principle: Domestic violence and sexual assault are wrong. They are illegal. They have no place in the NFL and are unacceptable in any way, under any circumstances. That has been and remains our policy," he added.
Shortly after Goodell's announcement, the National Football League Players' Association issued a response to the new policy. "We were informed today of the NFL's decision to increase penalties on domestic violence offenders under the Personal Conduct Policy for all NFL employees. As we do in all disciplinary matters, if we believe that players' due process rights are infringed upon during the course of discipline, we will assert and defend our members' rights," the NFLPA said in a statement.
The NFL's league office drew criticism this week after it decided to uphold a yearlong suspension received by Cleveland Browns wide receiver Josh Gordon for marijuana use while administering a comparably light punishment to Rice. Ravens officials have yet to comment on the league's new policy.
© Copyright IBTimes 2023. All rights reserved.