NFL Coaches On Hot Seat: Coughlin, Ryan And Others Who May Be Fired In 2014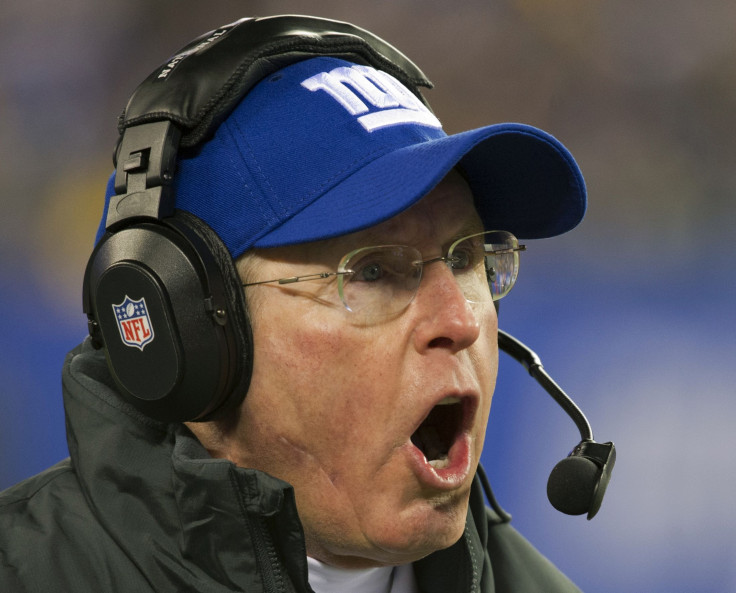 The NFL's annual "Black Monday" wave of firings is still a few weeks away, but a number of head coaches are already on the hot seat in 2014. The New York Giants' Tom Coughlin and the New York Jets' Rex Ryan could be undone by their teams' poor on-field performances, while locker room dysfunction could spell the end of Jim Harbaugh's otherwise-successful reign over the San Francisco 49ers.
The Giants have won two Super Bowls since Coughlin took control of the team in 2004, but a 7-9 finish last season and a 3-9 start this year have cast doubt over his future with the franchise. With New York in danger of missing the NFL playoffs for the third consecutive season, Coughlin admitted Monday that he may soon be fired.
"I am responsible. I accept full responsibility, and whatever price has to be paid for that responsibility, then it starts right there with me," Coughlin said during a conference call, according to the New York Times.
Coughlin's potential firing highlights the tenuous status of all NFL head coaches. At 68 years old, concerns over his advanced age and recent struggles overshadow his status as the league's third-longest-tenured coach.
Most NFL franchises wait until "Black Monday" – the day after the season's final slate of Sunday games – to fire head coaches. So far, former Oakland Raiders head coach Dennis Allen is the only firing of the 2014 season, dismissed in September after an 0-4 start and an 8-28 cumulative record. Here's a look at some other head coaches who are on the hot seat.
Mike Smith, Atlanta Falcons head coach since 2008: Smith averaged 11 wins over his first five seasons as Falcons head coach, but was nearly fired last season after a disastrous 4-12 campaign. Team owner Arthur Blank opted to offer Smith a one-year contract extension, an indication of skepticism regarding his ability to take Atlanta to the next level.
At present, the Falcons' 5-7 record is good enough for a first-place tie with the New Orleans atop the league-worst NFC South division, but another season without a playoff berth would likely result in Smith's dismissal. A team source said last month that Smith is not expected to return next season, CBS Sports' Jason La Canfora reported.
Marc Trestman, Chicago Bears head coach since 2013: The Bears were expected to be one of the NFL's top teams in 2014, but have struggled on both sides of the ball en route to a 5-7 record. Worse, there are indications that Trestman has lost some control over Chicago's locker room, as evidenced by wide receiver Brandon Marshall's locker room tirade in October. "It starts with me. I'm looking inside and accepting accountability for this loss, obviously," Trestman said after a Thanksgiving Day defeat against the Detroit Lions. "We just couldn't get it done today and didn't have enough ammunition."
Gus Bradley, Jacksonville Jaguars head coach since 2013: The Jaguars are a young team in the midst of the rebuilding process, but Bradley's 2-10 record in 2014 doesn't bode well for his future as head coach. In fact, he's gone just 6-22 since taking over as head coach at the start of last season. Despite the growing pains, Jaguars management has remained supportive of their coaching staff. A strong finish to the 2014 season would go a long way toward securing Bradley's status for 2015.
Rex Ryan, New York Jets head coach since 2009: Ryan's exit from New York is all but assured after a catastrophic 2-10 start to the 2014 NFL season. The Jets reached back-to-back AFC championship games in Ryan's first two years as head coach, but will now fail to make the playoffs for the fourth consecutive season. "It's gut-wrenching," Ryan said after a 16-13 Monday-night loss to the Miami Dolphins, according to the New York Daily News. "I can't tell you how heartbroken I am."
Tony Sparano, Oakland Raiders interim head coach since Week 5, 2014: It's probably unfair to place Sparano on this list, given his interim status after replacing Allen in Week 5. But Oakland's 1-11 record has done nothing to convince Raiders management that Sparano deserves a shot at the full-time gig in 2015.
Jim Harbaugh, San Francisco 49ers head coach since 2011: Unlike most coaches on the hot seat, Harbaugh has enjoyed an extremely successful tenure with his franchise. The 49ers won at least 11 games and reached the NFC championship game in each of his first three seasons at head coach. However, various reports have suggested that locker room dysfunction and a power struggle between Harbaugh and 49ers management could lead to a mutual parting-of-ways after the 2014 NFL season. The Raiders and Jets are each expected to pursue Harbaugh if he becomes available, ESPN reported.
© Copyright IBTimes 2023. All rights reserved.