NFL Coaching Rumors: Could Jim Harbaugh, David Shaw Leave College Football In 2018?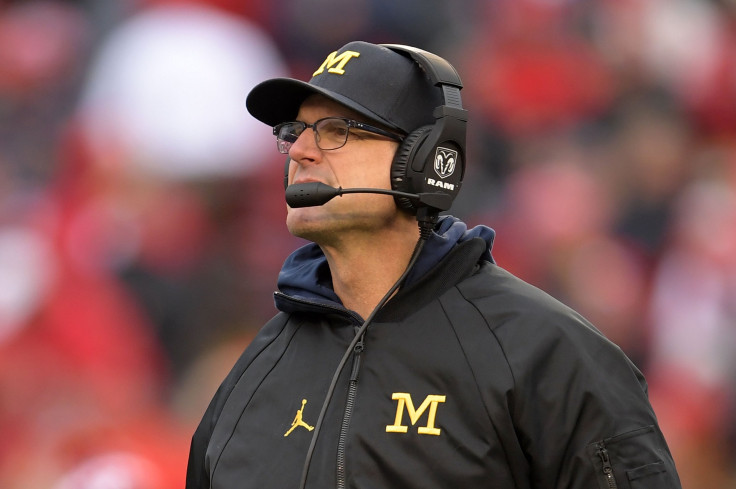 With the 2017 NFL season coming to an end, the head coaching rumors have already begun. Several positions are expected to open up on the first day of 2018, and there is already speculation about a jump to the pros by the top coaches in college football.
Stanford's David Shaw and Michigan's Jim Harbaugh would be the top targets of NFL teams that might consider bringing in a head coach from the college ranks, according to Yahoo Sports' Pete Thamel. It won't be much of a surprise to hear their names linked to a few open positions, though it remains to be seen if either coach would actually leave their respective schools.
For Shaw, the ball appears to be in his court. He's got a future as an NFL head coach if he wants one after totaling a 73-20 record in seven seasons as Stanford's head coach.
"Shaw is a smart, offensive-minded guy. He's honest with his players and he doesn't play favorites. You can tell the players respect him and he gets results," an NFL personnel executive told NFL.com's Daniel Jeremiah.
In a poll of five NFL executives regarding which college coach would make the best NFL coach, two picked Shaw. The New York Giants reportedly wanted to interview Shaw when they had a head coaching vacancy two years ago, and several teams would likely jump at that same opportunity in 2018.
Unfortunately for those teams, there is no sign that Shaw plans to leave Stanford. There seems to be a new report every year that says he has no intentions of going to the NFL.
"I'm planning for the long haul," Shaw told the New York Post earlier this month. "As much as we've won and played well, I think we're still establishing ourselves and we're still building and we're still growing. We can accomplish so much more, and I don't feel like that the job's close to halfway done."
It's unknown if Harbaugh, Shaw's predecessor, has interest in leaving college football, though he has had success as an NFL head coach. Harbaugh nearly won the 2013 Super Bowl with the San Francisco 49ers, and he never had a losing record in four years with the team, making three appearances in the NFC Championship Game.
You can bet that Harbaugh will draw plenty of interest from NFL teams three years after his relationship with the San Francisco front office cost him his job. CBS Sports' Jason La Canfora reported earlier this season that Cleveland Browns' owner Jimmy Haslam was "enamored" with Harbaugh. Indianapolis Colts' owner Jim Irsay reportedly reached out to gauge Harbaugh's interest in the head coaching position last year.
A reunion in Indianapolis with Andrew Luck, who Harbaugh coached at Stanford, could make sense. Chuck Pagano is expected to be fired after a third straight season of missing the playoffs.
Harbaugh, of course, would have to agree to leave Michigan, where he's been the head coach for three years. After leading his alma mater to consecutive 10-3 seasons, the Wolverines went 8-4 in the 2017 season. Michigan is 1-1 in bowl games under Harbaugh ahead of their matchup with South Carolina in the Outback Bowl.
Harbaugh's contract with Michigan expires in 2021.
© Copyright IBTimes 2023. All rights reserved.