NFL Rumors: Bears, Cowboys, Colts Among Teams Considering New Head Coaches?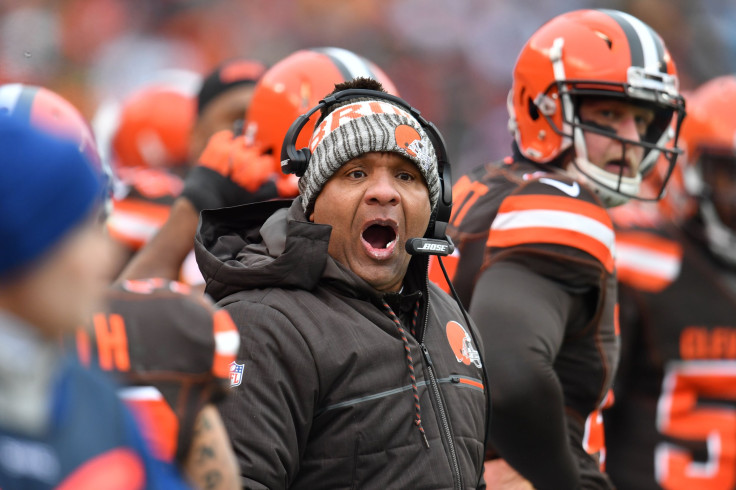 There are only two weeks remaining on the NFL schedule, which means teams that are out of playoff contention have an eye towards the 2018 season. This year's "Black Monday" falls on Jan. 1, but some teams might choose to cut ties with their head coach before ringing in the New Year.
One team has already gotten a head start, while rumors have surfaced that another team may be close to parting ways with a longtime head coach.
The New York Giants fired Ben McAdoo on Dec. 4, while ESPN's Adam Schefter reported Sunday that Marvin Lewis will be leaving the Cincinnati Bengals after 15 seasons and no playoff wins. Lewis looked like a lame-duck coach entering the season after the Bengals couldn't reach a deal on a contract extension.
This year's coaching carousel could be in for a lot more changes.
Bruce Arians, Arizona Cardinals
Health concerns could mean Arians steps down from the Cardinals. Jason La Canfora reported on Sunday that the Cardinals are preparing for Arians to step down. Arians, 65, has had success in Arizona since arriving in 2013, but the Cardinals haven't made the playoffs since 2015 and may miss out on a .500 season for the second consecutive year.
Jason Garrett, Dallas Cowboys
It may be time for the Cowboys to find a new head coach, despite mostly successful seasons under Garrett. The former Cowboys quarterback has a 66-52 record since taking over for Wade Phillips in the 2010 season and Dallas can still finish with a 10-6 record in a season that included a six-game suspension for Ezekiel Elliott. But the Cowboys are desperate to win a Super Bowl and the 22-year drought means changes are probably necessary.
Chuck Pagano, Indianapolis Colts
One of the most likely firings is in Indianapolis, with many expecting the Colts to part ways with Pagano, who debuted in 2012. Though the Colts have a 3-11 record, this marks the first year the Colts have not finished with at least a .500 record. Though the absence of Andrew Luck seemed to doom the Colts' season, there have been few bright spots in 2017.
Hue Jackson, Cleveland Browns
It almost seems like a given that the Browns will fire Jackson, who is in his second season and has a miserable 1-29 record. Jackson seemed destined to be fired the moment he was hired. The Browns have had 12 head coaches since 1988 and the last head coach to spend more than two seasons with the team was Romeo Crennel (2005-08).
Bill O'Brien, Houston Texans
Since O'Brien has one year left on his contract, the Texans will decide on whether to sign him to an extension or find a new head coach. La Canfora cited sources on Sunday that say O'Brien and general manager Rick Smith "believe a split is imminent." In his first three seasons in Houston, the Texans finished with a 9-7 record but only have four wins this year.
John Fox, Chicago Bears
After a 13-33 record in three seasons, the Bears will likely move on from Fox. He didn't do himself any favors in Week 10 when he made arguably the worst coaching challenge in NFL history. Fox threw a red flag after a referee ruled that Bears running back Bennie Cunningham stepped out of bounds before reaching the ball over the goal line. After the review, the refs ruled that Cunningham fumbled in the end zone, resulting in a touchback for the Green Bay Packers. Bad review decisions aside, the Bears are in need of a shakeup.
Todd Bowles, New York Jets
Bowles might be the biggest question mark in this group. Before the start of the season, many thought the Jets would have among the worst records in the league. That hasn't been the case. Wins against the Los Angeles Chargers and New England Patriots to close out the season would probably be enough to give the New Jersey native another chance despite his current 20-26 record since 2015.
Dirk Koetter, Tampa Bay Buccaneers
The Bucs should probably hold on to the second-year head coach despite a disappointing 4-10 record. Tampa Bay is in arguably the toughest division in the NFL, and Koetter helped lift the Bucs to a 9-7 record in 2016.
Jay Gruden, Washington Redskins
More was expected out of Washington in 2017, so Gruden might be on his way out. Washington can still finish with a .500 record but there was hope for at least a wild-card berth. Gruden's 27-34-1 record isn't exactly a glowing endorsement for him to stick around.
Jim Caldwell, Detroit Lions
While the Lions have a 35-27 record under Caldwell, it's possible the organization moves on if Detroit doesn't close the season with a 10-6 record. The Lions probably won't sneak into the playoffs, which means Caldwell remains on thin ice with or without two wins to end the season. Had Matthew Stafford's pass to Golden Tate been ruled a touchdown in Week 3 against the Atlanta Falcons, Caldwell would probably not find himself on the hot seat.
Who Will Fill The Vacancies?
According to Phoenix radio host Mike Jurecki, former Los Angeles Rams head coach Jeff Fisher could be interested in some of the potential coaching vacancies.
While Fisher seems like an uninspiring choice after lukewarm results with the Rams, there are plenty of assistants who will be having conversations in the coming weeks, with the Lions and Patriots both potentially losing their offensive and defensive coordinators.
Lions defensive coordinator Teryl Austin has been a potential head coach candidate for years and should be a top candidate somewhere. Offensive coordinator Jim Bob Cooter is 33 years old, which probably means he gets a lot of looks, especially after the success of young Sean McVay with the Rams in his debut season.
Patriots offensive coordinator Josh McDaniels seems destined to get another shot at a head coaching gig. Longtime defensive coordinator Matt Patricia is probably long overdue for a shot as a head coach. Should the Patriots win another Super Bowl, it seems likely that at least one of their two coordinators leaves.
Former Green Bay Packers head coach Mike Sherman won't be in the mix to become a new NFL head coach, according to NFL insider Ian Rapoport.
© Copyright IBTimes 2023. All rights reserved.