NFL Draft 2021: Clemson, Ohio State Quarterbacks Have Best Odds To Be Top Pick
It was clear for months that LSU quarterback Joe Burrow would be the No.1 pick in the 2020 NFL Draft. With the 2021 draft a year away, another signal caller stands out as the overwhelming favorite to be the first player selected.
Clemson quarterback Trevor Lawrence has -305 odds to be next year's No.1 pick at DraftKings Sportsbook. Ohio State quarterback Justin Fields is second with +300 odds. Oregon offensive tackle Penei Sewell has the third-best odds at +400.
Miami quarterback D'Eriq King is a distant fourth with +1600 odds to be drafted first.
Lawrence is one of the most highly touted college football prospects in recent years. The signal caller led the Tigers to the national title as a freshman. He threw for 347 yards, three touchdowns and no interceptions in Clemson's 44-16 victory over Alabama in the 2019 National Championship Game, outplaying Tua Tagovailoa.
In the 2019 season, Lawrence finished seventh in the Heisman Trophy race as a sophomore. The 20-year-old completed 65.8% of his passes for 36 touchdowns, eight interceptions and a 166.7 passing efficiency rating.
After starting his career with a 29-0 record, Lawrence and Clemson were defeated by Burrow and LSU in this year's national title game.
It's far from a guarantee that Lawrence will be the top overall draft pick. Alabama's Tua Tagovailoa was the odds-on favorite to be taken atop the 2020 draft until a serious hip injury cut his season short. Tagovailoa went to the Miami Dolphins with the No.5 pick.
Fields finished third in the 2019 Heisman Trophy race. After transferring from Georgia following the 2018 season, Fields led Ohio State to a trip to the College Football Semifinals, where the Buckeyes were defeated by Lawrence and Clemson.
Fields completed 67.2% of his passes for 3,273 yards, 41 touchdowns, three interceptions and a 181.4 passing efficiency rating. The quarterback also had 137 carries for 484 yards and 10 scores.
A quarterback has been taken with the No.1 pick in three straight years and nine of the last 12 drafts. Eric Fisher (2013) is the only offensive tackle that was drafted first in the last 12 years.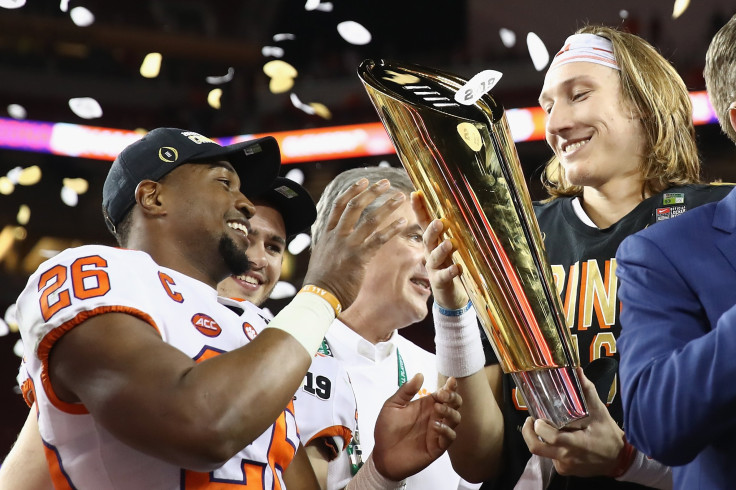 © Copyright IBTimes 2023. All rights reserved.