NFL Draft: Dwyane Wade Reacts To Tua Tagovailoa Being Selected Fifth Overall
KEY POINTS
Dwyane Wade reacted to Tua Tagovailoa being selected by the Miami Dolphins
Like Wade, Tagovailoa was also selected fifth overall by a Miami team in a draft
Tagovailoa insisted he is medically cleared to compete in the NFL
It looks like Tua Tagovailoa will be taken care of in Florida. Miami icon Dwyane Wade offered words of encouragement to the Alabama quarterback, who was selected fifth overall by the Dolphins in the 2020 NFL Draft on Thursday.
The retired Heat recounted his own personal experience, from being called at draft night, all the way to his journey to success in the NBA. Bringing back old memories, Wade created an image of deja vu of the 2003 NBA Draft.
"The last 5th overall pick to Miami did some cool things. Congrats @Tuaamann, can't wait to watch your journey," Wade posted.
Of course, the three-time NBA champion was referring to himself. He was drafted fifth overall by the Heat from a powerhouse class that also featured LeBron James, Carmelo Anthony, and Chris Bosh – all of whom are selected ahead of him.
Apart from the championships, Wade's storied career also boasts a scoring title, an All-Star game MVP and a Finals MVP. He was named an All-Star 13 times and was a member of an All-NBA team eight times in his 16-year basketball career.
The slight difference, though, is that the Dolphins are otherwise taking a gamble on Tagovailoa, who had a history of recurring health issues that include a season-ending right hip injury in 2019.
"For me and my family, whoever decided to take a chance on us, that's where I belonged," Tagovailoa said. "My biggest thing is I'm trying to prove this was the right decision."
Besides Tagovailoa, Miami also selected 20-year-old Austin Jackson from Southern California at 18th overall, and Auburn cornerback Noah Igbinoghene for the 30th pick.
Entering the world of professional football bugged by outside noises is a challenge for Tagovailoa. But the highly talented quarterback insisted there is nothing to worry about from a medical standpoint as he braces himself for tougher competition, and eventually proving his doubters wrong.
"What makes me confident in being able to play is what the doctors have told me," Tagovailoa said. "As far as rehab, as far as the medical rechecks, I've checked off all the boxes."
The 22-year-old rookie will be taken under the wings of veteran QB Ryan Fitzpatrick, whom he'll also compete against for the Dolphins' starting role.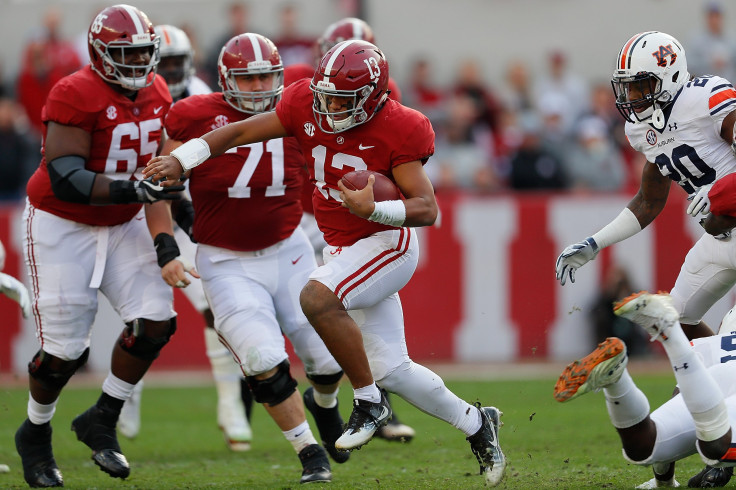 © Copyright IBTimes 2023. All rights reserved.