NFL Head Coaching Search: Who Are The Favorites To Land Jobs With The Packers, Broncos, Dolphins, Others?
Several teams are on the search for a new head coach though it remains unclear who or when any of the teams will make an announcement. The New York Jets, Miami Dolphins, Green Bay Packers, Cleveland Packers, Denver Broncos and Arizona Cardinals are looking to fill vacancies.
According to odds consultant D.J. Fields of Bookmaker.EU, New England Patriots offensive coordinator Josh McDaniels once again is a frontrunner for several openings. The former Denver Broncos head coach has rejected many offers in recent years, but perhaps could be tempted to coach superstar quarterback Aaron Rodgers.
McDaniels and interim head coach Joe Philbin both have +300 odds to get the Packers job. Chuck Pagano and Jim Caldwell have both interviewed for the Packers job.
Meanwhile, Mike McCarthy, who spent nearly more than 12 seasons with the Packers, is considered a top candidate for several teams.
Fields lists Lincoln Riley, the 35-year-old University of Oklahoma head coach, as the favorite to fill the Jets opening, while Browns offensive coordinator Freddie Kitchens is the top choice to be Cleveland's next head coach.
Several former head coaches and current offensive coordinators are considered top targets.
Dolphins Candidates
Josh McDaniels +450
Dan Campbell +800
Jim Caldwell +800
Mike Munchak +800
Mike McCarthy +900
Eric Bieniemy +1200
Kris Richard +1200
Darren Rizzi +1500
Brian Flores +1500
Vic Fangio +2000
Field +120
Packers Candidates
Josh McDaniels +300
Joe Philbin +300
Matt LaFleur +500
Dan Campbell +900
Brian Flores +1100
Jim Caldwell +1200
Chuck Pagano +1500
Pete Carmichael +1500
Mike Munchak +1600
Pat Fitzgerald +2200
Field +250
Cardinals Candidates
Josh McDaniels +500
Adam Gase +800
Kris Richard +850
Dan Campbell +900
Matt LaFleur +900
Pete Carmichael +900
Zac Taylor +1200
Jim Caldwell +1200
Todd Bowles +1400
Kliff Kingsbury +1400
Eric Bieniemy +1500
Mike McCarthy +2200
Field +250
Jets Candidates
Lincoln Riley +650
Mike McCarthy +1000
Matt LaFleur +1000
Eric Bieniemy +1015
Jeremy Bates +1015
Todd Monken +1200
Kliff Kingsbury +1000
Josh McDaniels +1300
Jim Caldwell +1324
John DeFilippo +1324
Bruce Arians +1324
Adam Gase +1532
Kris Richard +3000
Urban Meyer +2500
Field (Any Other) +250
Browns Candidates
Freddie Kitchens +150
Mike McCarthy +401
Josh McDaniels +602
Brian Flores +1818
Gregg Williams +900
Matt Eberfuls +2022
Bruce Ariens +1512
Kevin Sefanski +3047
Jim Caldwell +2226
Dan Campbell +2226
Nick Sirianni +3047
Urban Meyer +5000
Field (Any Other) +401
Broncos Candidates
Vic Fangio +700
Chuck Pagano +800
Zac Taylor +800
Brian Flores +900
Mike Munchak +900
Dennis Allen +900
Mike McCarthy +1000
Dave Toub +1100
Bruce Ariens +1300
Jim Schwartz +1300
Urban Meyer +2000
Field (Any Other) +250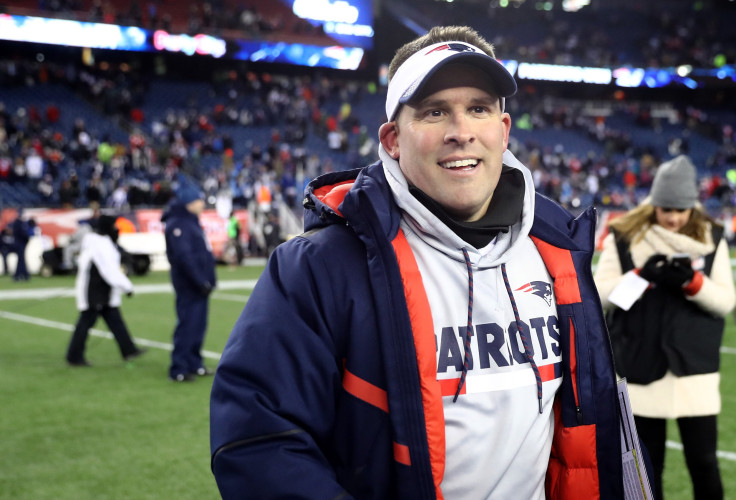 © Copyright IBTimes 2022. All rights reserved.
FOLLOW MORE IBT NEWS ON THE BELOW CHANNELS