NFL Los Angeles Team In 2015? Stadium Deal, Team Owners Are Relocation Hurdles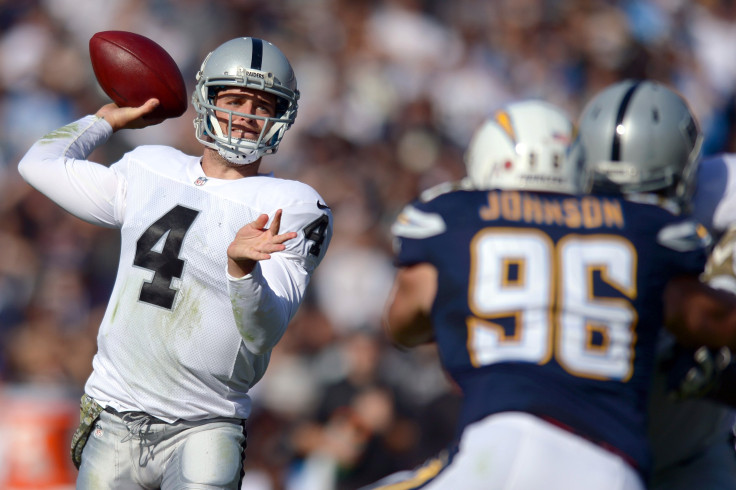 Los Angeles is eager to roll out the red carpet for the return of an NFL franchise in 2015. For both pro athletes and top executives, there isn't a more attractive locale. The City of Angels offers year-round breezy skies, the promise of high-end corporate sponsorships, celebrity endorsements and ravenous fans who've been drooling for a professional football team ever since the Oakland Raiders and the St. Louis Rams each skipped town ahead of the 1995 season.
Both the MLB and the NBA have two different franchises playing in the same city. The NFL also recognizes the opportunity – Commissioner Roger Goodell has publicly supported the league's arrival by as soon as 2015. Los Angeles Mayor Eric Garcetti, who previously said he would not approve public funding for a new stadium, told a local radio station in October that it was "highly likely" that the city would have its own team within the next year.
But in the nearly two decades since the United States' most profitable professional sports league had a franchise in the nation's second-largest media market, public enthusiasm for the NFL's return to Los Angeles has yet to mesh with the economic and political realities of the situation, experts said. The most obvious obstacle is the lack of a suitable stadium in downtown Los Angeles or any solidified plan to build one.
"Without a clear path to a new stadium, Los Angeles is no better market [for any NFL team] than [the one] they're already in," said Victor Matheson, a professor of economics and accounting at the College of Holy Cross. In other words, there likely won't be an NFL team in Los Angeles in time for next season.
A lack of public funding and an unwillingness to privately finance the construction of a stadium without a firm commitment from a willing team, such as the Rams, the Raiders or the Chargers, have helped keep Los Angeles from realizing its NFL dreams. And Goodell's comments earlier this month after the NFL's annual owners' meetings made it clear that no such commitment was on track for 2015. "I'm not at the point where I would tell you that anything is imminent or that we have a solution identified at this point in time. There is progress, but we've all heard that before," he said.
In theory, 2015 should be the perfect year for the Rams, the Raiders or the Chargers to make a move to Los Angeles. All three teams are tired of playing in their aging stadiums. All three have significant ties to Los Angeles – the Rams and the Raiders each used to play there, and the Chargers draw about 30 percent of their revenue from the L.A. market, according to ESPN.
More importantly, all three franchises have expiring stadium leases. The Chargers could have opted out for a mere $17.6 million. The Rams have a strange provision in their current lease that allows them to opt out of their deal if the city of St. Louis does not pay to keep the Edward Jones Dome at the top of the NFL in terms of amenities, and city officials declined a $700 million proposal in February that would have used taxpayer money to upgrade the stadium.
Moreover, Rams owner Stan Kroenke bought 60 acres of land near the legendary L.A. Forum in Inglewood, California, last December. Its mere existence suggests the Rams are, at the very least, exploring the possibility of a move to California.
But the NFL's momentum toward Los Angeles came to a screeching halt Tuesday, when Chargers officials announced they would not opt out of their annual lease. Consensus opinion holds that the Chargers would not so brazenly write off a move to Los Angeles in 2015 without some sort of internal assurance that another team wasn't planning to land withint striking distance of San Diego, potentially eating into their profits.
There are indications that the Rams are backing off too. The Rams are already offering 2015 season tickets to their fans in St. Louis. And there are doubts that Raiders owner Mark Davis has the support within the league or the deep pockets necessary to fund a move, which would undoubtedly mean paying a relocation fee to other owners of as much as $250 million, according to the Orange County Register.
There are also problems with each of the two major proposed locations in the Los Angeles area. The NFL favors a proposal by the Anschutz Entertainment Group, which was recently granted a six-month extension by city officials to find an NFL team willing to play in a downtown stadium. But a stadium built by AEG would likely be owned by AEG and rented out to an NFL team, a situation that does not exist anywhere else in the league, said Andrew Zimbalist, a professor of economics at Smith College.
"[AEG owner Philip Anschutz] was going to own the stadium and he was not going to be the majority owner of the team. That doesn't give the team owner enough control over the situation. The NFL doesn't like that situation," he said.
What about a stadium on Kroenke's newly purchased land? It would meet the criteria of being owned and operated by an NFL team owner. But the 60-acre space lacks sufficient room for parking or tailgaiting, and Kroenke would be years behind AEG in terms of sidestepping the political and logistical challenges posed by building a stadium there.
And not everyone is convinced that Kroenke's motives are pure. Some have suggested that the Rams owner bought land on the West Coast just so he could threaten the city of St. Louis into footing the bill for a brand-new local stadium. In fact, multiple experts said that NFL team owners may be reluctant to place a team in Los Angeles because it would mean the loss of the city as a bargaining chip in their own future stadium negotiations.
"The league really isn't chomping at the bit too much to get a team in L.A. because it's been a hugely profitable market for them in terms of a blackmail tool for the rest of the league," said Matheson. "The lack of a team in L.A. has probably gotten five or six stadiums built around the rest of the league."
Similar hurdles tripped up Los Angeles-based investors who tried to bring an expansion franchise to the city in the late 1990s, when the NFL opted to instead award an expansion team to Houston billionaire Bob McNair and his privately financed initiative.
If a plan for a Los Angeles stadium was approved and construction started tomorrow, it would still be years before the facility was ready to be used. Some have posed the possibility that the prospective franchise could temporarily play in the ancient Los Angeles Memorial Coliseum or the Rose Bowl in Pasadena, but it's unlikely that any NFL franchise would agree to that solution, especially if it was moving specifically to escape the unfriendly confines of its own crumbling facilities. Waiting out construction for a year or two in their current market would pose problems, too.
"You would announce now that you were going to move your franchise to Los Angeles. You would say, 'We will start play when the new stadium is finished in 2016.' So you'd have a lame duck year in our home market, but everyone would hate you and you wouldn't make as much money," said Rick Burton, a professor of sports management at Syracuse University and former commissioner of Australia's National Basketball League.
The NFL's unique revenue-sharing arrangement also complicates matters. The league derives the majority of its revenue from its lucrative television deals, profits from which are split evenly among the league's 32 teams. The majority of stadium ticket sales are also funneled back to the league. Without the right stadium in place – complete with ample luxury boxes and ripe for local sponsorship opportunities — the difference in revenue in a small market like Green Bay vs. a large market like Los Angeles is negligible.
Still, experts agree that a move to the city is inevitable. Former Microsoft CEO Steve Ballmer's purchase of the NBA's Los Angeles Clippers for more than $2 billion earlier this year showed NFL owners how valuable a Los Angeles-based franchise has become in the modern market, if there was any doubt to begin with. And the payday promised by that relocation fee is alluring in its own right.
At least 75 percent of the 32 NFL owners have to sign off on a proposed relocation and a two-thirds vote is required to approve a new stadium. Ultimately, the NFL's re-entry into the Los Angeles market will depend entirely on the whims of these 32 owners. Some, such as Dallas Cowboys owner Jerry Jones and New England Patriots owner Robert Kraft, have already expressed support for the move. But convincing a workable majority that the move is in their best interests will be a challenge.
"You're dealing with a private cartel of owners. You've got 32 owners and they get to make the rules for how their league is going to be run. So they have to like the guy who's going to possibly go to L.A. and they're also going to want to know much money [they] can make," Burton said.
FOR FREE to continue reading
✔️ Unlock the full content of International Business Times UK for free
offer available for a limited time only
✔️ Easily manage your Newsletters subscriptions and save your favourite articles
✔️ No payment method required
Already have an account? Log in
© Copyright IBTimes 2023. All rights reserved.