NFL Los Angeles Update: San Diego Chargers Official Skeptical On Local Stadium Deal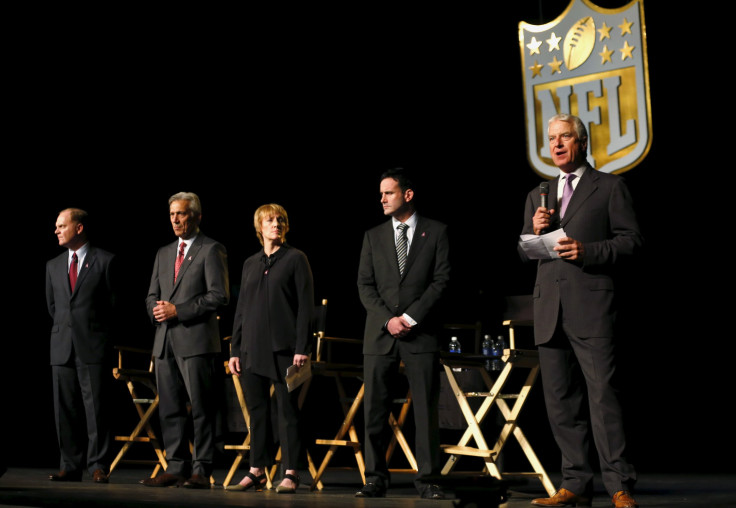 As the NFL considers the possibility of moving a team to Los Angeles, the San Diego Chargers' point man on potential relocation expressed skepticism that the team will be able to reach a deal keeping the franchise in its current city. Chargers and NFL officials were booed while meeting with hundreds of San Diego fans at a relocation hearing Wednesday.
The town hall meeting was one of three gatherings the National Football League will hold this week with fans of the three NFL teams – the Chargers, the Oakland Raiders and the St. Louis Rams – that are expected to apply for relocation to Los Angeles in January. Fans were given an opportunity to speak on their concerns about relocation. The Chargers and the Raiders are pursuing a joint, privately funded $1.7 billion stadium project in Carson, California, while Rams officials are backing a single-team stadium in Inglewood.
NFL executives say they prefer to reach stadium solutions for the Chargers, the Raiders and the Rams in their current markets. But Mark Fabiani, the Chargers' representative for Los Angeles relocation, criticized San Diego politicians for their inability to offer a viable plan for a new stadium. Many of the approximately 450 fans who attended the meeting booed Fabiani as he spoke, USA Today reported.
"It's incredibly unfair that the Chargers fans who have been so great to the team over the years are now bearing the brunt of the decisions made by politicians over the last 14 years," Fabiani said.
San Diego Chargers Overview | PointAfter
San Diego area officials have proposed a $1.1 billion stadium for the Chargers near Qualcomm Stadium, their current home, ESPN reported. San Diego City Councilman Scott Sherman told Eric Grubman, the NFL's point man on Los Angeles, that Fabiani has held up progress on a new stadium.
"His entire argument from the very get-go is to convince you all that the city can't get its act together or a stadium deal done," Sherman said, according to ESPN. "I'm here to tell you that it's the furthest thing from the truth."
While the Chargers have played in San Diego for more than half a century, the franchise draws a significant portion of its revenue from the greater Los Angeles area, team officials have said. Fabiani confirmed last week that the Chargers will file for the right to relocate, though no final decision on a move has been made as of yet.
The NFL could decide on whether to place a team in Los Angeles before the 2016 season, officials have said.
© Copyright IBTimes 2023. All rights reserved.