NFL News: Baltimore Ravens' Offensive Coordinator Says Team Is Ready For Running Back Challenge
KEY POINTS
Greg Roman believes the Baltimore Ravens can weather the storm
They face an uphill battle this season after losing their top three running backs due to injury
Lamar Jackson still heads the Ravens' offense and will need to lead towards scoring opportunities.
The Baltimore Ravens will be without their three top running backs going into the NFL season, but offensive coordinator Greg Roman remains optimistic that the team is more than ready for the challenge.
They were handed massive losses prior to the start of the season as J.K. Dobbins, Justice Hill and Gus Edwards have been declared out for the season.
Dobbins and Edwards suffered ACL tears while Hill tore his Achilles tendon, leading to him being cut from the team.
"When something like that happens, you really just have to get into sprint mode – get them as much as you can, get them as much of a foundation as you can and kind of coach as you go," Roman said. "We kind of call it 'country coaching.'
"So, you're coaching them in the hallway, in the cafeteria, everywhere. So, it's a sprint, and I'm really impressed with how these guys are attacking it. These guys are really good players, and we're really excited."
The number one rushing team in the NFL for the past two seasons will have to rely on third-string running back Ty'Son Williams to carry most of the load in their Week 1 game against the Las Vegas Raiders.
The Ravens were expected to come out on top of the AFC North division this season with Dobbins, Hill and Edwards helping lead the charge.
However, they are a bit lucky in a way as the Raiders have had difficulty covering the run game in recent seasons, allowing 125.8 rushing yards per game last season.
To fill the massive sinkhole that appeared in the running back position, the Ravens decided to sign Trenton Cannon and Latavius Murray to the 53-man squad while adding veteran running backs Le'Veon Bell and Devonta Freeman to the practice squad.
Despite these losses, their offense still has quarterback Lamar Jackson running the show and he will have to guide his new running back group through the Raiders game.
Jackson led the team in rushing last season with 1,005 yards on 159 attempts, plus seven touchdowns.
Losing all three running backs before the season starts is a rare occurrence, but if Roman believes they can survive without their top running backs, they will need to prove it against the Raiders on Monday night at 8:15 PM ET.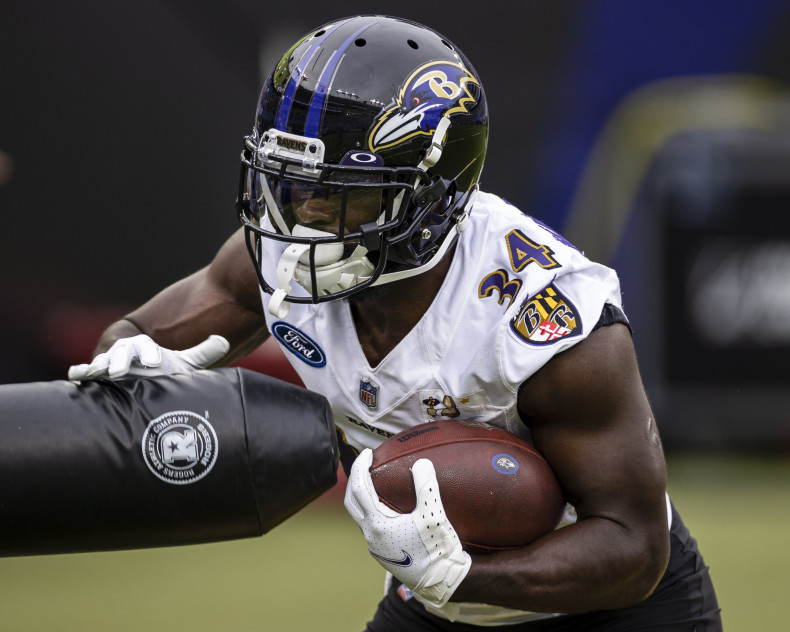 © Copyright IBTimes 2022. All rights reserved.