NFL Picks 2016: 5 Best Bets Against The Spread For Week 4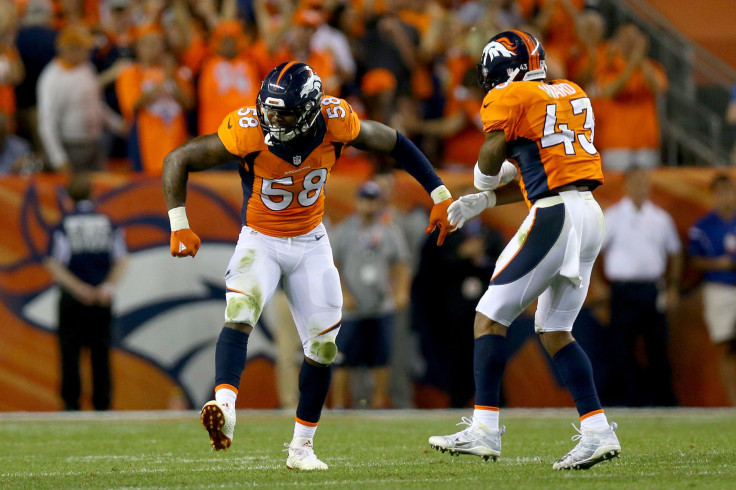 Even after getting off to fast starts in the 2016 NFL season, some of the top Super Bowl contenders are not among the biggest favorites in Week 4. Three teams are favored by more than a touchdown, but that doesn't include the undefeated Denver Broncos and Minnesota Vikings.
All of the teams that are laying more than seven points on the upcoming schedule have just one win this season, according to the latest Las Vegas betting odds. Four teams with 2-1 records are getting more than three points.
There's no such thing as a "sure thing" when it comes to gambling, but here are the five best bets for Week 4 of the 2016 NFL season:
Denver Broncos (-3)
The defending Super Bowl champs continue to look as good as they did last season, and that shouldn't stop when they visit the Tampa Bay Buccaneers. After defeating the Cincinnati Bengals by 12 points on the road, winning by a field goal in Tampa Bay won't be too difficult.
With the NFL's best defense, the Broncos have forced Cam Newton, Andrew Luck and Andy Dalton to perform like below-average quarterbacks. There's no reason to believe Jameis Winston will have any more success against the AFC's top front seven. Going 1-2 this season, the Buccaneers picked up their only win when they defeated the Atlanta Falcons, who put no pressure on the quarterback. Winston threw four interceptions when Arizona's defense forced him to make quick decisions in Week 2, and Sunday could be the same story.
New York Jets (+2.5)
Despite last week's brutal loss, the Jets are legitimate contenders for one of the two AFC wild-card spots. They've got a good chance to win on Sunday when they host the banged-up Seattle Seahawks.
Seattle might be the best team in the NFC when healthy, but they are dealing with injuries at key positions. Starting running back Thomas Rawls could be out a month with a leg injury, and Russell Wilson is expected to play with a knee and ankle injury. The Seahawks didn't score a touchdown when Wilson was fresh off an ankle sprain in Week 2, and after suffering a sprained MCL last week he might have trouble moving the ball against a tough New York defensive front. Ryan Fitzpatrick is due for a bounce-back performance after throwing six interceptions in Week 3.
Indianapolis Colts (-2.5)
The Colts will technically be the road team when they face the Jacksonville Jaguars in London, and head coach Gus Bradley could be out of a job before he makes it back to the United States. The Jaguars are winless, and that isn't likely to change in Week 4.
Jacksonville was expected to be much improved in 2016, but they are headed towards another losing season, having won no more than five games in any of the past five years. Indianapolis wouldn't be a playoff contender in another division, but they are a level ahead of the Jaguars, who seem to be the same bad team that they've been during Bradley's entire tenure. Indianapolis has beaten Jacksonville in six of their last seven meetings, and they only need to win by a field goal to cover the spread.
Oakland Raiders (+3.5)
The Baltimore Ravens could end the season with one of the AFC's best records, but they still haven't proven much with their 3-0 start. After defeating some of the worst teams in the NFL, they could be in for their first loss of 2016 when they host the Raiders.
After beating the Buffalo Bills by one score, the Ravens were nearly defeated by the winless Cleveland Browns and Jaguars, narrowly escaping with victories. The Raiders haven't exactly defeated top competition either with wins over the New Orleans Saints and Tennessee Titans, but they have the talent on both sides of the ball to compete for a playoff spot. The 3.5-point spread indicates that Baltimore is the better team on a neutral field, but that might not be the case. At the very least, Oakland has a good chance to keep the game close and lose by a field goal.
Minnesota Vikings (-4.5)
Through three weeks, the Minnesota Vikings have proven to be the best team in the NFC with wins over the Green Bay Packers and Carolina Panthers. The New York Giants might end up being a top team, but they have yet to put it all together and could have trouble in Minnesota on Monday night.
The Vikings have had their issues on offense after the injuries to Teddy Bridgewater and Adrian Peterson, but their defense has more than made up for those inefficiencies. Minnesota leads the league with 15 sacks, and they'll take advantage of New York's mediocre offensive line and a sometimes mistake-prone Eli Manning. The Giants' offense has been inconsistent in 2016, and a visit to Minnesota isn't exactly the best time to get things straightened out.
Season Record: 9-6
© Copyright IBTimes 2023. All rights reserved.