NFL Picks 2018: 5 Best Bets Against The Spread For Week 5 Include Eagles, Texans, Steelers
There are a bunch of games on the upcoming NFL schedule that could go either way, according to the latest Las Vegas betting odds. The Kansas City Chiefs, Pittsburgh Steelers, Philadelphia Eagles and Houston Texans are all favored by exactly a field goal Sunday. All but two of the 14 remaining Week 5 games feature betting lines between three and seven points.
There's no such thing as a "sure thing" when it comes to gambling, but here are the five best bets against the spread for Week 5 of the 2018 NFL season:
Jacksonville Jaguars (+3)
As good as the Kansas City Chiefs have looked through the first quarter of the season, the Jaguars are still the biggest threat to the New England Patriots in the AFC. They'll prove it Sunday when they hand the Chiefs their first loss of the season.
Patrick Mahomes is going to have a hiccup at some point. If it's not going to happen against arguably the league's best defense, will it ever happen? It's probably a safe bet to assume Mahomes won't have the greatest season ever for a quarterback, which means he'll have some trouble against Jacksonville. As terrific as Mahomes was Monday night, he did finish with a passer rating below 90.0 when he finally faced a defense that didn't rank in the bottom 10 in opponents' passer rating. Jacksonville has the NFL's best secondary, making them a prime candidate to force Mahomes into committing his first turnover.
The inconsistent Jaguars' offense should have a field day against a Kansas City defense that's dead last in yards allowed. The Chiefs are giving up 5.7 yards per carry, which will allow Jacksonville to run the ball with ease, even without Leonard Fournette. That should help Blake Bortles have one of his better games. Jacksonville is 10-4 against the spread in their last 14 games on the road, according to OddsShark.
Pittsburgh Steelers (-3)
Don't give up on the Steelers just yet. They've got too much talent for their season to fall apart this early. Pittsburgh should take care of business at home against an Atlanta Falcons' team that has been ravaged by injuries.
It's no surprise that the Falcons have surrendered 34.7 points per game over the last three weeks, given the number of defensive starters they've lost. Pro Bowlers Deion Jones and Keanu Neal are out with serious injuries. Starting safety Ricardo Allen is done for the year. Defensive end Vic Beasley has been limited at practice with an ankle injury, and he probably won't be at 100 percent Sunday.
Ben Roethlisberger missed some throws in Pittsburgh's Week 4 loss while struggling against the defense that ranks first in yards allowed per play. He should bounce back against a bad defense at home, where he usually plays extremely well. The Steelers can win by at least a touchdown in a shootout against the Falcons and Matt Ryan, who usually puts up worse numbers outdoors.
Philadelphia Eagles (-3)
It might be time to accept that we were wrong about some things we believed to be true in the preseason. Near the top of that list could be the idea that the Minnesota Vikings would have an elite defense for a second straight year. The unit has been bad through four weeks, and it will cost Minnesota in their rematch of the NFC Championship Game.
Even when the Vikings' defense was playing well in January, it was completely embarrassed in Philadelphia. The pass rush isn't the same without Everson Griffen, arguably their best defender. The secondary hasn't been good since Week 1, even allowing Josh Allen to have his only strong performance of the season. Only five teams have allowed more yards per play, though those numbers are somewhat inflated after being dominated by the Los Angeles Rams' high-powered offense last week. Kirk Cousins and the offense has become the strength of the team instead of complementing the NFC's best defense.
Minnesota's defense faces a tough task Sunday, going on the road to face a quarterback that's primed for a big game. Carson Wentz is starting to resemble the quarterback that almost won last year's MVP award. The Eagles' offense is finally getting healthy, and the return of Alshon Jeffery paid immediate dividends last week. Philadelphia's offensive line can certainly play better than it has over the last two weeks when Wentz was sacked nine times. It's not as easy to say the same for Minnesota's offensive line, which will have trouble against the Eagles' front seven.
Houston Texans (-3)
The three-point betting line for "Sunday Night Football" indicates that the Texans and Dallas Cowboys are even on a neutral field. Houston is actually the better team, making them an easy pick in Week 5.
Houston finally got their first win of the season last week by defeating the Indianapolis Colts in overtime. The Texans' biggest issue in their three losses was the offense, but the unit seems to be on the verge of reaching its potential. Deshaun Watson looks like the quarterback that took the league by storm last year, throwing for over 300 yards and two touchdowns in three straight games. Houston is fifth during that span in yards per play, and they'll face a Dallas defense that's likely without their most important player. Matthew Stafford had a 131.5 passer rating and the Detroit Lions averaged 4.8 yards per carry against the Sean Lee-less Cowboys in Week 4.
Dallas' offensive struggles have been well-documented. They scored a season-high 26 points last week when they played at home and Ezekiel Elliott took on the NFC's worst run defense. No one in the AFC has allowed fewer yards per carry than the Texans. Dak Prescott might have the worst receiving corps in football, which will make for a long night against J.J. Watt and Co.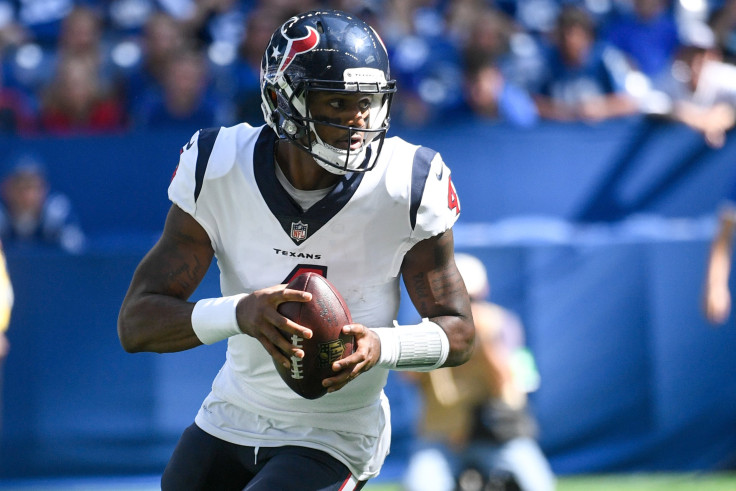 New Orleans Saints (-6.5)
The Washington Redskins have ascended to the top of the NFC East after three games against teams that have struggled to move the ball this season. The defense could be hit with a dose of reality when they have to go on the road to face Drew Brees and the Saints.
Washington certainly deserves credit for allowing fewer yards per play than 29 NFL teams, though their defensive numbers will quickly regress. The Redskins beat an Arizona Cardinals' team that's dead last in points scored and a Colts' offense that's 25th in yards per play. The unit was impressive in holding Aaron Rodgers to 17 points, though the Green Bay Packers are only 20th in yards per play and 19th in points scored. It's one thing to stop a hobbled Rodgers in poor conditions. Slowing down a healthy Brees indoors is a completely different animal.
New Orleans is third in points per game. Michael Thomas has more catches than anyone and Alvin Kamara is first in yards from scrimmage. Can the Redskins keep up with the Saints? Probably not, considering Adrian Peterson has been essential to Washington's success on offense. New Orleans has actually given up fewer yards per carry than anyone, and they'll do enough on defense to win by a touchdown if Peterson can't get it going.
Season Record: 10-8-2
​
© Copyright IBTimes 2023. All rights reserved.