NFL Preseason Schedule 2019: Week 3 TV Channels, Start Times, Betting Odds For Every Game
The games still don't count, but Week 3 of the NFL preseason is the closest thing to meaningful football in the summer. It's traditionally when the starters see the most playing time. Some teams could use their best players for the entire first half of their upcoming contests.
Below is the complete 2019 NFL Week 3 preseason schedule, including TV channels and start times. Betting odds are provided by OddsShark.
Thursday, Aug. 22
New York Giants (+3, 42.5) at Cincinnati Bengals, 7 p.m. EDT, NBC (New York)/WKRC (Cincinnati)
Washington Redskins (-3, 41.5) at Atlanta Falcons, 7:30 p.m. EDT, NBC4 (Washington)/CW69 (Atlanta)
Carolina Panthers (+3.5, 42) at New England Patriots, 7:30 p.m. EDT, ABC9 (Carolina)/WBZ (New England)
Baltimore Ravens (-4.5, 36) at Philadelphia Eagles, 7:30 p.m. EDT, WBAL (Baltimore)/NBC10 (Philadelphia)
Green Bay Packers (-3, 39.5) at Oakland Raiders, 8 p.m. EDT, NBC26 (Green Bay)/KTVU 2(Oakland)
Jacksonville Jaguars (+3, 37) at Miami Dolphins, 8 p.m. EDT, FOX
Friday, Aug. 23
Cleveland Browns (-3, 42.5) at Tampa Bay Buccaneers, 7:30 p.m. EDT, News 5 (Cleveland)/WFLA (Tampa Bay)
Buffalo Bills (-1, 42) at Detroit Lions, 8 p.m. EDT, CBS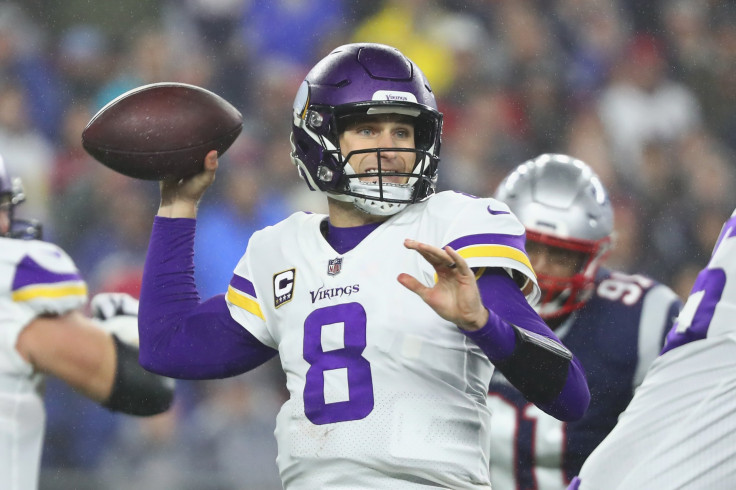 Saturday, Aug. 24
Arizona Cardinals (+7, 42.5) at Minnesota Vikings, 1 p.m. EDT, NFL Network
Houston Texans (PK, 40.5) at Dallas Cowboys, 7 p.m. EDT, NFL Network
Chicago Bears (+4, 40.5) at Indianapolis Colts, 7 p.m. EDT, FOX32 (Chicago)/FOX (Indianapolis)
New Orleans Saints (-3, 42.5) at New York Jets, 7:30 p.m. EDT, FOX (New Orleans)/CBS (New York)
San Francisco 49ers (N/A) at Kansas City Chiefs, 8 p.m. EDT, KPIX (San Francisco)/KCTV5 (Kansas City)
Denver Broncos (N/A) at Los Angeles Rams, 9 p.m. EDT, KTVD 20 (Denver)/KCBS (Los Angeles)
Seattle Seahawks (-2.5, 40.5) at Los Angeles Chargers, 10 p.m. EDT, NFL Network
Sunday, Aug. 25
Pittsburgh Steelers (+3, 40) at Tennessee Titans, 8 p.m. EDT, NBC
© Copyright IBTimes 2023. All rights reserved.