NFL Protests Have Financial Implications As Trump Supports Boycott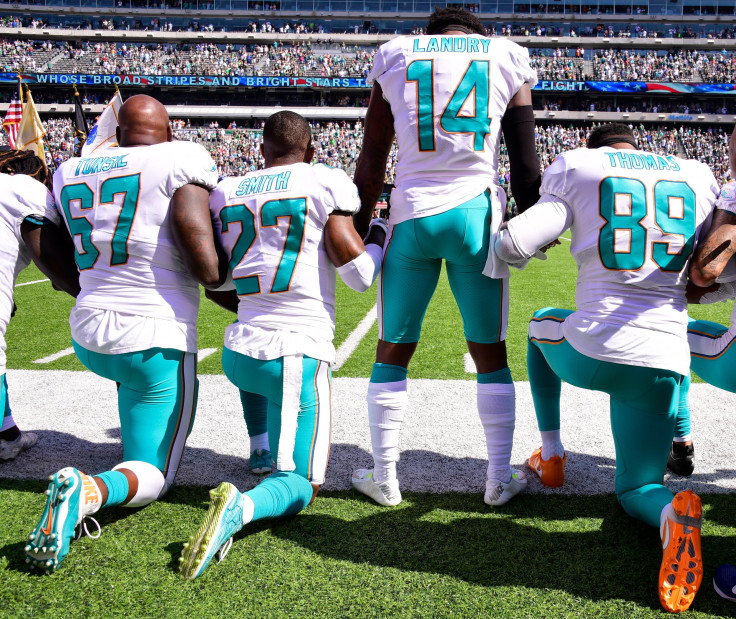 About 200 NFL players and owners showed unprecedented defiance Sunday against President Donald Trump's call for owners to fire or suspend players for not standing for the national anthem. Many players and owners sat, locked arms or knelt in response to Trump's Twitter postings on Saturday.
"If a player wants the privilege of making millions of dollars in the NFL, or other leagues, he or she should not be allowed to disrespect our Great American Flag (or Country) and should stand for the National Anthem. If not, YOU'RE FIRED. Find something else to do!" Trump wrote on Twitter.
When sports and politics converge, there are often financial implications. In sports, it's a matter of corporate sponsorships and partners. The NFL received $1.25 billion in the 2016-17 season from its 32 corporate sponsorships, according to research from sports consultant IEG.
NFL sponsors, which include Visa, Gatorade and Hyundai, have been either quiet or in support of the league, its players and free speech. NFL spokesman Joe Lockhart, who previously served as a White House press secretary for President Bill Clinton, said Monday that he had seen neither positive nor negative impact from Trump's comments, according to Bloomberg.
Sports apparel giants have sided with players. Nike issued a statement Monday that the company "supports athletes and their right to freedom of expression on issues that are of great importance to our society." On Sunday, Under Armour posted on Twitter that the company "stands for the flag and by our Athletes for free speech, expression and a unified America."
Automaker Ford Motor Co., which owns the naming rights to the Detroit Lions' stadium, also supported free speech and the players.
"We respect individuals' rights to express their views, even if they are not ones we share," Ford said in an emailed statement to Bloomberg. "That's part of what makes America great."
Comments from Nike, Under Armour and Ford came after calls for a boycott of the NFL and its sponsors. Trump retweeted a posting from one of his supporters who wrote: "You can boycott our anthem WE CAN BOYCOTT YOU!"
While it is still too early to accurately assess the financial impact of the protests and a boycott, one area where there is a financial impact on a player's personal politics is jersey sales.
The hottest-selling jersey of the past 24 hours has been that of Pittsburgh Steelers offensive lineman Alejandro Villanueva, a former Army Ranger and Afghanistan veteran who has stated his opposition to the national anthem protest, a spokesman for sports retailer Fanatics told ESPN's Darren Rovell.
Fanatics did not reply to International Business Times' request for comment and for more information about sales.
In September 2016, jersey sales for quarterback Colin Kaepernick saw a sharp uptick in support for his cause. Kaepernick, who sparked the movement to protest the anthem, was a bench player at the time and is currently not on an NFL roster.
© Copyright IBTimes 2023. All rights reserved.
FOLLOW MORE IBT NEWS ON THE BELOW CHANNELS