NFL Rumors: Denver Broncos, Seattle Seahawks, NY Jets Talking Trades?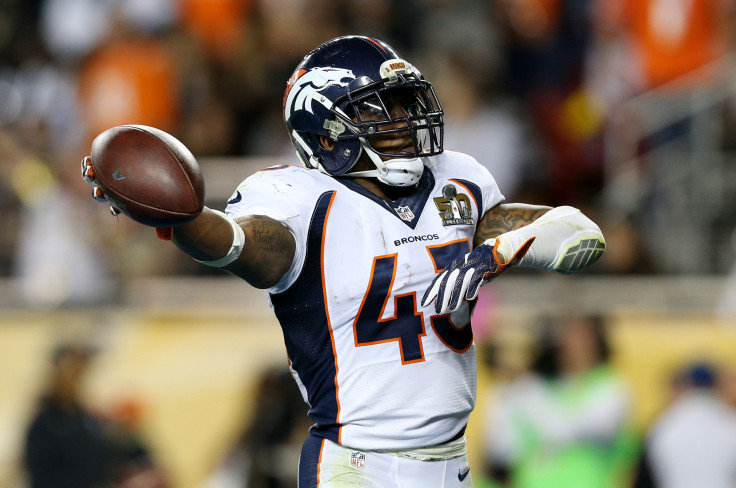 The Cleveland Browns front office has been active this week, cutting two-time Pro Bowl cornerback Joe Haden, who was promptly signed by the Pittsburgh Steelers, and trading 25-year-old offensive lineman Cam Erving to the Kansas City Chiefs. More deals may be on the horizon for other teams with the NFL season kicking off next week, as the Denver Broncos, Seattle Seahawks and New York Jets may be trading high-profile players, according to the latest rumors.
NFL insider Ian Rapoport reported Tuesday that the Broncos were fielding offers for veteran Pro Bowl safety T.J. Ward, while Nicki Jhabvala of the Denver Post said Ward's name "has come up in discussions." The 30-year-old starter is owed $4.5 million in base salary and is part of a crowded group of safeties that include reserves Will Parks and Justin Simmons, who are both 23 years old.
But new head coach Vance Joseph told reporters that he was unaware that Ward was part of any trade speculation and described Ward as "one of our best players." Joseph also said that he would be "surprised" if Ward was dealt, while star linebacker Von Miller assumed the trade talk was "fake news."
"It's serious like that? It can't be that serious," said Miller. "T.J.'s been a great player for us but it's the National Football League — you always get blindsided by stuff. T.J.'s been great for us so I don't see any reason to [trade him]. [John] Elway and the guys upstairs — they push this organization in a great direction and I'm going to go continue to make championship moves for us. It has to be fake news. I really can't believe in that too much."
Ward spent four seasons with the Browns before joining the Broncos in 2014. He was named to the Pro Bowl in 2013, 2014 and 2015, and is coming off a 2016 season in which he played in 14 games and had 69 tackles, one sack and one interception.
Meanwhile, the Seahawks are interested in trading wide receiver Jermaine Kearse, sources told ESPN's Dianna Russini. The 27-year-old is in the second year of his three-year, $13.5 million contract and will make $2.2 million in base salary in 2017.
Kearse's best season was in 2015, when he caught 49 passes for 685 yards and five touchdowns. In 2016, he caught 41 passes for 510 yards and one touchdown, and was essentially the fourth-most productive receiver on the Seahawks. According to Rapoport, the Seahawks may also have cornerback Jeremy Lane, 27, and running back Alex Collins, 23, on the block.
Kearse isn't the only player in the second year of his three-year deal on the trade block. The Jets' Matt Forte, who signed a three-year deal worth $12 million in 2016, is being shopped around, reported Tom Pelissero of the NFL Network. The Jets have the running back on the books for $5 million against the salary cap in 2017 and $4 million in 2018.
Forte, 31, has been dealing with hamstring issues but is expected to be available in the season opener against the Buffalo Bills. He has been among the most consistent rushers since entering the league in 2008, rushing for 9,415 yards and 52 touchdowns in nine seasons.
But the Jets are not expected to be in the playoff hunt in 2017 and may want to consider building towards the 2018 and 2019 seasons. The Jets might weigh releasing the former Chicago Bears star if they don't find a team willing to complete a deal.
In June, Forte slammed suggestions that the Jets might tank in the upcoming season.
"It's a good thing we don't operate off of what the fans think and what everybody on the outside thinks," Forte said. "What we think as a team, that's what's going to happen. And none of us on the team think that we're going to tank. So all I have to say about that is: 'Bring it.'"
© Copyright IBTimes 2023. All rights reserved.