NFL Rumors: Myles Garrett To Seattle Denied As Browns Keen To Offer Extension
KEY POINTS
Myles Garrett will not be traded to the Seattle Seahawks
The Cleveland Browns are "working hard" on an extension for Garrett
Garrett could be the highest-paid pass rusher in NFL history
There is no truth to the fuzz about Myles Garrett being shipped to the Seattle Seahawks. A fresh report negated the baseless claim as the Cleveland Browns are reportedly determined to sign the 24-year-old to an extension.
NFL insider Charles Robinson of Yahoo spoiled the rumor as he discredited the accounts that spurred the spread of the alleged move.
"As much as I don't want to break up the entertaining twitter brouhaha between Browns and Seahawks fans, Myles Garrett isn't being traded to Seattle. Cleveland is working hard on an extension. Garrett will be shot to Mars in a rocket before he's dealt to Seattle. Not. Happening," Robinson wrote.
According to the said rumor, Garrett will be shipped to Seattle in a package deal that will land K.J Wright to Cleveland.
The speculation was spawned by earlier talks that the Seahawks are unlikely to resign Jadeveon Clowney from the free-agent market, primarily due to salary cap restrictions.
But with the Browns unswerving on their plan to keep Garrett, the transfer is placed to rest.
As reported by NFL Network's Ian Rapoport, Garrett could earn by as much as $25 million a year should the extension be executed, making the prized pass rusher the highest paid for his position in league history.
Garrett was placed under the microscope after an unsightly scuffle during Week 11 of the 2019 season led him to miss the Browns' last six games. In the said incident, the 2018 Pro Bowler hit Pittsburgh's Mason Randolph in the head with his helmet, forcing the NFL to slap him with an indefinite suspension.
Prior to the brawl, the third-year rusher had posted 10 sacks and 29 combined tackles along with 18 quarterback hits in 10 games for the Browns.
Selected first overall in the 2017 NFL Draft, Garrett endured an injury-plagued rookie year, playing just 11 games to rack up 31 tackles and seven sacks for Cleveland. He then bounced back the following year as he played in all 16 games and registered 44 tackles, 13.5 sacks, and three forced fumbles that earned him his first Pro Bowl nod.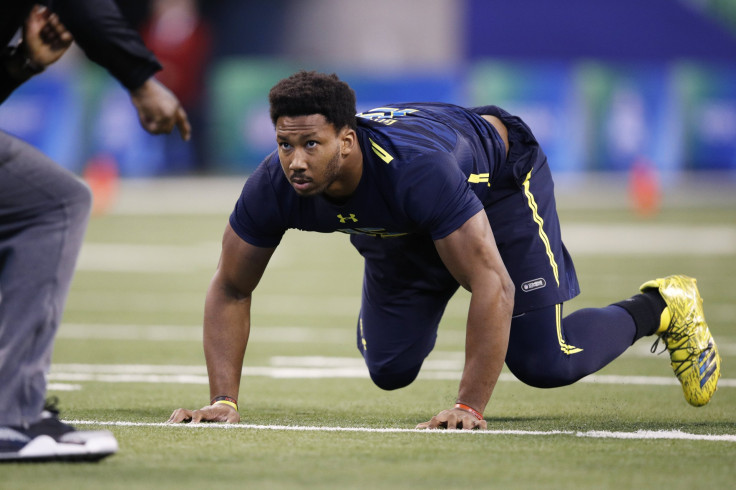 © Copyright IBTimes 2023. All rights reserved.