NFL 'Thursday Night Football' Live Stream Simulcast Could Set Precedent For Online Future Of Digitally Broadcasting Sports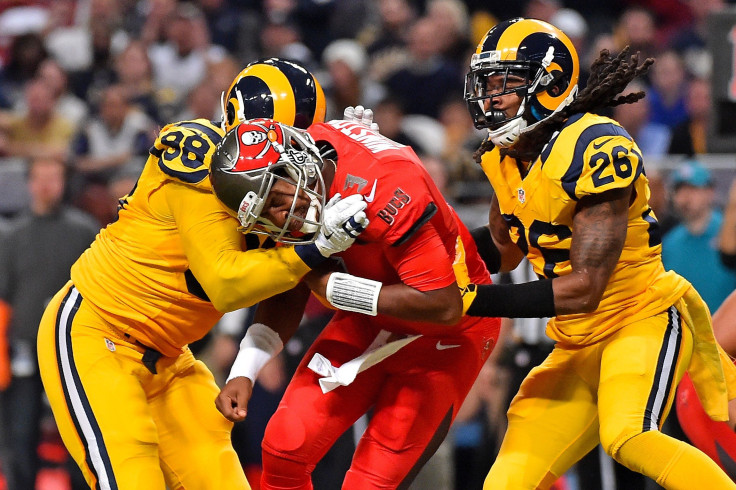 On Thursday night, millions of Americans will sit down, flip on the television, and tune in to the NFL Network's "Thursday Night Football" broadcast to watch the Tampa Bay Buccaneers take on the St. Louis Rams. But soon those same viewers could potentially instead flip open their laptop Thursdays to stream the games live online.
With reports of the NFL recently approaching a number of digital companies to purchase the right to offer an internet simulcast of its Thursday slate of games, the league would effectively be testing the waters of delivering what is called over-the-top (OTT) streaming -- directly through the internet -- to a what has typically been a young audience. The results, especially economically, of the potential NFL stream would be a barometer for the sports streaming market, serving as the first extended foray into digital broadcasting. Amid sky-high costs for television rights in the sports world, the NFL could ultimately open the door into a new revenue stream and preparing for the long-term future, as the number of cord-cutters steadily grows.
"The whole television industry and the whole OTT industry is looking at this as very interesting test case," said Joel Lulla, a professor of sports media at the University of Texas at Austin, and longtime consultant in media and negotiating services.
The U.S.'s most popular sports league, on the heels of a largely successful one-off streaming of a game in October, approached companies like Apple, Google, Amazon and Yahoo about streaming a simulcast of its weekly Thursday night games. The NFL sent the tech giants formal requests for proposal, or RFPs, to bid on the rights to live stream the games alongside whichever broadcast network wins the contract to televise the games, according to SportsBusiness Daily. It also reportedly sent RFPs to televise the games to traditional players CBS, ESPN, Fox, NBC and Turner. The "Thursday Night Foootball" coverage is currently shared by CBS and NFL Network, which each broadcast about half the games on the schedule.
Testing the Waters
Moving toward live streaming was a smart play from the NFL, sports media analysts said. The simulcast, which could ostensibly pull eyes away from TVs, still doesn't pose a significant immediate threat to massive monetary figures associated with NFL television contracts. CBS currently pays some $300 million to televise "Thursday Night Football" and SportsBusiness Daily reported the league expects the streaming bidding to begin around that figure. The "Thursday Night Foootball" coverage is shared by CBS and NFL Network, which each broadcast about half the games on the schedule. The NFL, experts said, is simply still a must-have for networks and adding in an online option likely won't make bidders shy.
It could, however, be a sign of things to come as cord-cutters continue to move away from cable bundles. And that migration hurts ESPN more than any other major player in sports television, as the self-styled Worldwide Leader In Sports has already lost some 7 million subscribers over the past two years. The network pays billions -- currently about $1.9 billion annually -- for NFL television rights, which has been funded largely on the back off an industry-leading subscription fee.
"I think the NFL is brilliant in kind of dipping their toe into new paradigms and new ways of doing things," Lulla said. "This is for me, potentially the most damaging for ESPN. What the NFL is testing is: As the cable bundle slowly frays, who picks up the slack? And the answer may be streaming."
In October, Yahoo streamed an NFL game from London and drew a significant, if perhaps heavily trumpeted, audience, and also found success securing ads. That cost the company some $17 million. Elsewhere, new viewing options continue to pop up. The NBA has found success offering $6.99 single-game purchases through its League Pass service. NCAA's March Madness basketball tournament garnered a record 80.7 million streams by putting all 67 of the 2015 games online, which required a cable subscription.
The NFL openly said "Thursday Night Football" has become its place for trying new concepts. The latest deal seems to follow that pattern. "Thursday is where we could experiment, Thursday is where we could drive our own assets, Thursday where we could start testing models for our future," said Brian Rolapp, the NFL's executive vice president of media in a podcast with Re-Code's Peter Kafka.
Sign of the Times
The market is changing and sports leagues are reacting. The NFL approaching digital giants for a year-long streaming deal is an important new shift -- one that could end with all of your favorite sports available online.
"The reality is we know cord-cutting is real … and at the same time some of the key sports have never been more popular," said Tom Richardson, founder of the consulting firm Convergence Sports & Media and former vice president at AOL Sports. The potential NFL deal will likely be judged by both digital companies and other sports leagues.
"It's a barometer, and each successive deal will be that much more advanced in terms of its sophistication and reach," Richardson said. With each new streaming deal, the sports world moves closer toward a more fragmented market in which every sporting contest is available online, he added.
The NFL, a monolith able to essentially set its television rights prices, is attempting to act as a first-mover into the digital world. It's unclear what the potential price tag may be for the simulcast. There is no precedent. Multiplying the $17 million Yahoo paid by the total games doesn't work because that stream was exclusive and more valuable not accompanied by a national broadcast. Scott Bukstein, associate program director and professor of sport business management at the University of Central Florida, said he couldn't imagine a digital company paying more than 50 percent of the price a television bidder pays, putting the cap at some $150 million.
The digital companies, should they choose to submit a proposal, would be making a long-term play to get their foot in the door with incredibly valuable NFL properties. None of the digital properties approached by the NFL were immediately available for comment. The league, meanwhile, would be forming partnerships in advance of a future with perhaps weakened TV deals. The NFL collected last year more than $3 billion in television money.
"I believe that sport leagues understand that media rights have reached a tipping point and after the current media rights deal expire … companies will either be unwilling or unable to invest the same amount of money in media rights deals," Bukstein said. "Sports leagues might be giving up some money short term [through streaming deals], but long term sports leagues realize viewership patterns are moving slowly toward online streaming viewing."
For the time being, a potential "Thursday Night Football" streaming deal will look to connect with viewers who have moved away from paying for cable. Sports leagues will likely watch the results carefully. With time and increased experience, sports media experts said more options will come as streaming continues to build in popularity. The NFL reaching out to giants like Apple or Amazon -- both of which offer TV devices -- is an effort to prep for the future.
"The NFL and other sports leagues are thinking which companies ten years from now are going to have the ability to spend $1 billion, $1.5 billion," Bukstein said.
FOR FREE to continue reading
✔️ Unlock the full content of International Business Times UK for free
offer available for a limited time only
✔️ Easily manage your Newsletters subscriptions and save your favourite articles
✔️ No payment method required
Already have an account?
Log in
© Copyright IBTimes 2023. All rights reserved.