NFL Trade Rumors: Deshaun Watson Could Be Dealt To NFC Team
KEY POINTS
Deshaun Watson is bent on bolting the Texans and move to a new NFL club
Watson is ready to play hardball if Houston opts to defy his wishes
The Texans may consider dealing Watson to an NFC team
The writing is all over the wall that Deshaun Watson will seek a move out of Houston. That day has finally come with the 25-year-old demanding a trade despite signing a contract extension worth $156 million a few months ago.
With this development, it seems pretty clear that the Houston Texans have failed to make ends meet.
However, it was already a given that the team would have a difficult time appeasing the three-time Pro Bowler who had wanted to be included in the Texans' decision making.
This included the signing of new general manager Nick Caserio earlier this month. Watson was visibly upset with the move, immediately reacting on social media when he tweeted: "Some things never change."
Worth noting is that Watson has a no-trade clause in place. This means he has a say on where he would be playing next.
There is a chance that the Texans will make it hard for Watson to move out. Regardless, it appears the 2020 NFL Passing Yards leader is ready to play hardball with Houston if they intend to do so.
When he was introduced as the Texans' new general manager, Caserio stressed that Watson remains the team's quarterback. He planned to sit down with the player, but nothing has progressed. Both have not spoken and may never will.
With the chances of the Texans to keep Watson dwindling, the best they can do is consider offers pitched by other NFL teams.
However, NFL insider Ian Rapoport feels that Houston may decide to deal Watson with an NFC team when he spoke on WFAN's Moose and Maggie show.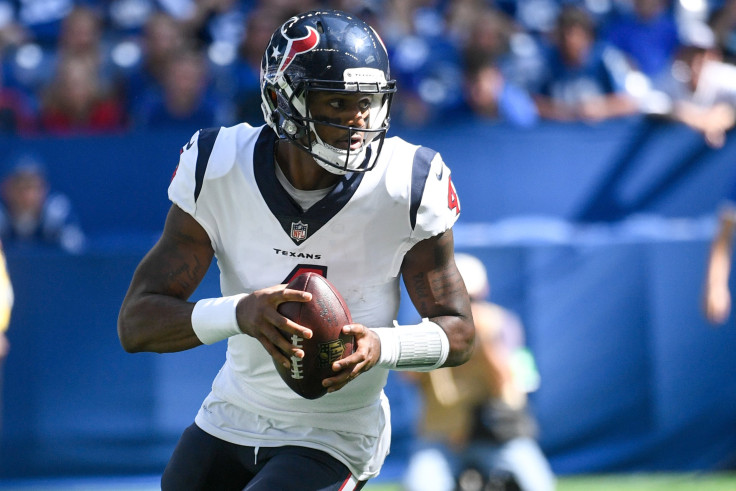 "My sense is that they would rather trade him to the NFC," he stated. "Because why would you want to face him, ever, unless it's like in the Super Bowl?"
The point makes sense. By trading Watson to a team in another conference, this means they would have to face that club only once every four years.
If he is shipped to an AFC team, the Texans would end up facing him once every three seasons at a minimum.
If Watson does move to the NFC, plausible landing spots include Carolina and Washington.
© Copyright IBTimes 2023. All rights reserved.