NFL Trade Rumors: Panthers Unloading Players, Making Room For Disgruntled Texans QB, Report Says
KEY POINTS
The Panthers have cleared salary-cap space and plan to go after Deshaun Watson, a report says
The Texans are bent on keeping Watson but divorce is seen as happening
Multiple NFL teams are reportedly ready to pitch offers for Watson
Deshaun Watson is still officially with the Houston Texans, but a divorce is looming. Several teams have been linked to the disgruntled 25-year-old player, who is upset about how things are being run at the NRG stadium.
There is no clarity on which NFL team will fire the first salvo for Watson, but one team that has been quietly making salary room is the Carolina Panthers. They have cleared cap space after unloading several players, with most failing to notice it, ESPN reported. The outlet learned from an unnamed source that the Panthers are planning to make a run at the former Clemson Tiger to address their play-calling issues.
Gone from the Carolina fold are defensive end Stephen Weatherly, safety Tre Boston and punter Michael Palardy. Their departure comes not long after defensive tackle Kawann Short was released.
The Panthers are well on their way to becoming one of the top teams with cap space to spare. With that in mind, it would be reasonable to expect that a target would be Watson and his $15.94 million contract.
The Carolina Panthers have had no luck with Teddy Bridgewater, someone who succeeded former NFL MVP Cam Newton. David Tepper is far from satisfied with the 28-year-old's performance and wants a quarterback that can deliver, The Athletic reported.
Watson undoubtedly fits that need, although it will not be easy. The Texans are bent on keeping the three-time Pro Bowler despite his unhappiness. Assuming that they give in to the 25-year-old's demands, there are multiple teams ready to swoop in and get Watson.
Among the teams allegedly interested in exploring options with Watson are the Miami Dolphins, Chicago Bears, New York Jets and the Denver Broncos. The Panthers are up there but will be in for a fight to acquire Watson's services.
The Texans are likely to try and play hardball with Watson for now, aware that he is too good of a talent to let go. But if the relationship is beyond repair, expect a mad scramble to ensue. However, that would depend on the offers Houston Texans would get in return for the 2020 NFL Passing Yards leader.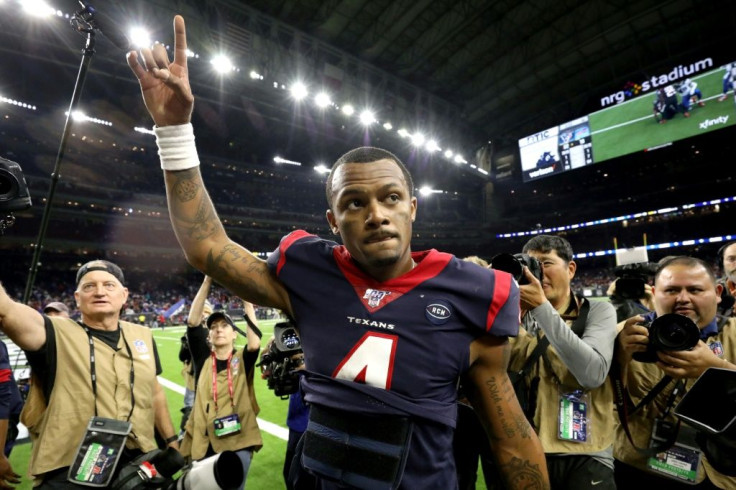 © Copyright IBTimes 2023. All rights reserved.