NFL Trade Rumors: Troubled Texans QB's Move To Dolphins Hits A Snag
KEY POINTS
Deshaun Watson's move to Miami Dolphins is left hanging due to legal issues
The Dolphins are inquiring to know if Watson will miss NFL games due to civil lawsuits
Multiple teams may take a risk on Watson, despite his legal woes
Deshaun Watson of the Houston Texans was so close to getting his wish of being traded, but the latest update on his transfer to the Miami Dolphins may have stalled it from happening.
Watson faces 22 civil complaints alleging sexual misconduct during massage therapy sessions.
Moreover, Watson faces 10 criminal complaints, two of which were filed by individuals who have not yet sued him. However, he has not yet been charged with any crime, per NESN.com.
NFL commissioner Roger Goodell tried to address the Watson situation on Tuesday, October 25, although it hardly rendered any answers.
"We don't have all the access to that information and pride ourselves on not interfering with it," Goodell said. "That process is ongoing... We don't feel we have that necessary information to place him on the exempt list."
In all, Watson is likely to miss some games for the Dolphins, something that the franchise's management may not want.
John McClain of the Houston Chronicle, citing sources, claimed that the Texans would receive three first-rounders.
McClain added that Houston may have to accept lesser picks than the second-rounders originally demanded.
But there was a twist in the deal. It seems that while Dolphins team owner Stephen Ross approved the trade, he wants the legal woes of Watson settled first.
The cautious approach of Ross is understandable. Tied to that is the possibility of seeing Watson getting suspended due to the personal conduct policy.
Should that happen, it would mean Miami would have to play some games without the 2020 NFL passing yards leader.
In a previous post here on IBTimes, it was already suggested that a Watson move to the Dolphins could happen by November.
The deal, barring the recent elements, could have been sealed by November 2 –the NFL trade deadline.
The Dolphins are not the only one interested in taking in Watson. Other teams who allegedly have interest in him include the Denver Broncos, Philadelphia Eagles and Carolina Panthers.
There are other unnamed teams also reportedly interested, so the Georgia native is not short on suitors.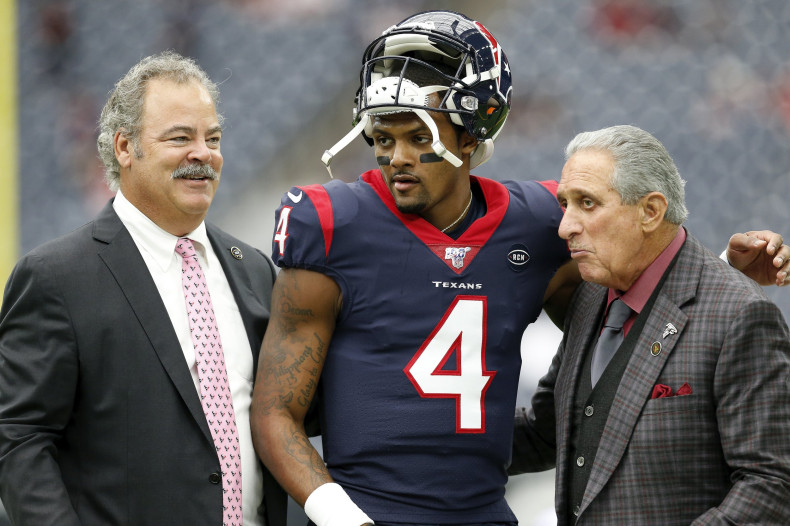 © Copyright IBTimes 2022. All rights reserved.