NFL Week 2 Results 2018: 5 Takeaways From Sunday's Schedule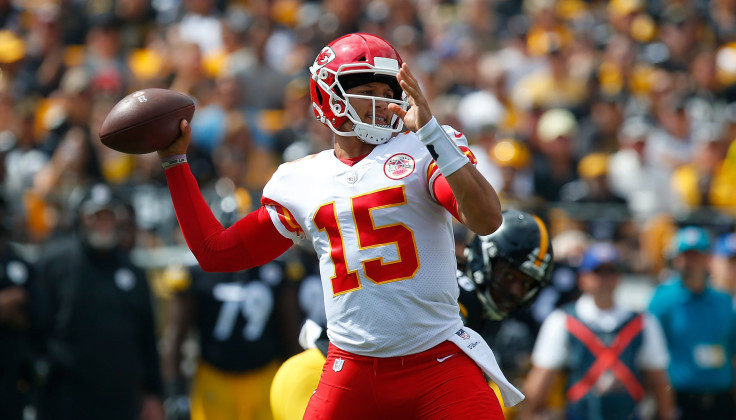 Through two weeks of the 2018 NFL season, only seven teams are a perfect 2-0. The two teams that faced off in last year's Super Bowl were both defeated pretty handily over the weekend, and a pair of teams that made last season's playoffs are still looking for their first victories.
What did we learn from all of Sunday's games? Here are five takeaways from Week 2:
Patrick Mahomes is this year's Carson Wentz
It's taken just two weeks for Mahomes to prove that he's going to be a star for years to come. The second-year quarterback has been the AFC's best player in the early part of the 2018 NFL season, and it looks like he's going to make the Kansas City Chiefs a legitimate Super Bowl contender.
Leading Kansas City to a 42-37 win over the Pittsburgh Steelers, Mahomes set a record with 10 touchdowns in the first two games of the season. He was nearly perfect at Heinz Field and has a 143.3 passer rating with no interceptions to begin his first full season as a starter. Of course, Mahomes will slow down somewhat as the season continues, but the quarterback certainly looks like he has the tools to be in the MVP conversation throughout the year. He went on the road and beat two of the league's best defenses as the Chiefs scored a combined 80 points.
Kansas City was consistently good with Alex Smith, always finishing with a winning record but never having enough firepower to be a real threat to the New England Patriots. Mahomes gives the Chiefs a chance to finally get over that hump. Why can't he do what Wentz did in 2017 and lead his team to the No.1 seed?
Jacksonville is New England's biggest threat in the AFC
After nearly beating the Patriots in the AFC Championship Game, the Jaguars have shown that last season's playoff run was no fluke. Jacksonville soundly defeated New England 31-20, proving that they might be even better than they were a year ago when they threatened to reach the Super Bowl.
As long as Jacksonville's defense remains healthy, they will be a top-three unit in the NFL. The Jaguars rush the quarterback better than almost anyone and there probably isn't a better secondary in the league. Blake Bortles and his lack of weapons at receiver were a concern to start the season, but there's reason to feel good about the quarterback after he outplayed Tom Brady. The quarterback has eight touchdown passes and two interceptions in his last five games dating back to the playoffs. Bortles could have more good days than bad if Doug Marrone allows him to air it out and doesn't play too conservatively.
Jacksonville has a real chance to win a ton of games and compete for a first-round bye. They've got a relatively soft schedule with games against the NFC East and AFC East, both of which could feature no wild-card teams. The Jaguars are clearly the class of the AFC South since the Tennessee Titans, Houston Texans and Indianapolis Colts all have their issues and could struggle this season.
Jameis Winston has probably lost his starting job, for now
With Winston suspended for three games, Ryan Fitzpatrick has done everything possible to cement himself as the Tampa Bay Buccaneers' starting quarterback beyond Week 3. The journeyman has been the MVP of the very, very young NFL season, putting up big numbers and leading the team to improbable victories.
Throwing for 402 yards and four touchdowns in a 27-21 win over the Philadelphia Eagles, Fitzpatrick is the league's leading passer and ranks in the top three in just about every category. He's got a nearly perfect passer rating of 151.5 with an other-worldly 13.43 yards per attempt. Tampa was expected to be among the NFL's worst teams, but they sit alone atop the NFC South after winning at New Orleans and beating the defending Super Bowl champs at home. Unless Fitzpatrick completely blows up next week, how can Dirk Koetter put him back on the bench?
Koetter is in a tough spot since the Buccaneers have to find out if Winston should be their quarterback going forward. The former No.1 overall pick hasn't been much more than average over his first three seasons and will soon be due for a contract extension. We know Fitzpatrick will eventually turn back into the quarterback that's been a backup for much of his career, though the veteran might give Tampa Bay their best chance to win and Koetter his best chance to keep his job.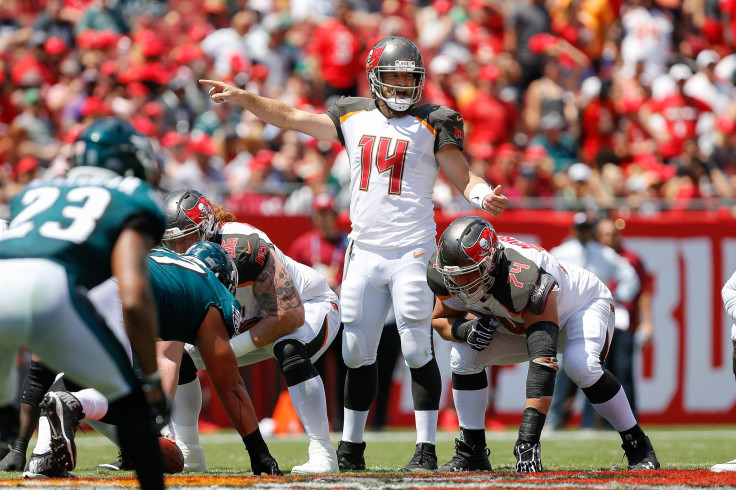 Winning the AFC North is no slam dunk for Pittsburgh
Only the Patriots were given better odds to win their division than the Pittsburgh Steelers at the start of the season, but things are not going to be easy for the defending AFC North champs. Pittsburgh is still looking for their first win after Week 2, and it appears that they won't cruise to another first-place finish.
The Cincinnati Bengals could be for real with their 2-0 start. They have plenty of talent on both sides of the ball, and they've looked like the team that made the playoffs each year from 2011-2015. It's hard to know what to make of the Baltimore Ravens after they beat the Buffalo Bills by 44 points but had trouble against Cincinnati. Even if the Cleveland Browns don't win many games, they are clearly going to be feisty after tying Pittsburgh and nearly doing the same to New Orleans on the road.
The Steelers are second in total offense, and the unit will get even better when Le'Veon Bell eventually reports to the team. Pittsburgh should still be considered the favorite in the division, though a lot will be on the line in their upcoming divisional matchups.
Don't count on the Giants or Lions making a comeback
The New York Giants and Detroit Lions find themselves among the 90 percent of 0-2 teams that fail to make the playoffs. It's time to re-evaluate the expectations that were placed on them before Week 1 and realize that neither one is going to the postseason.
New York doesn't look much different than the team that went 3-13 last year. Having a running back that was drafted second overall and the highest-paid wide receiver ever doesn't mean much if you can't block and your quarterback isn't a threat to complete downfield passes. That's the situation the Giants find themselves in, unable to protect Eli Manning after "revamping" the offensive line in the offseason. Manning is well past his prime, and every time he's under center it's a reminder of the mistake the front office made by not drafting his replacement in April.
Detroit's string of two consecutive winning seasons could come to a screeching halt this season. The defense can't seem to stop anyone, allowing at least 30 points in two straight weeks and surrendering a 117.7 passer rating to Sam Darnold and Jimmy Garoppolo. Even if the Lions bounce back, they still might be the worst team in a very difficult division. It doesn't look like Aaron Rodgers' injury will prevent him from performing like a top quarterback, and Kirk Cousins makes the Minnesota Vikings arguably the NFC's most complete team.
© Copyright IBTimes 2023. All rights reserved.