NHL Betting Picks, Odds, And Preview: St. Louis Blues vs Vegas Golden Knights
KEY POINTS
Blues to play after Jay Bouwmeester's cardiac episode scare
Golden Knights set to host Blues
Blues pegged as underdogs but poised to pull off an upset
After Tuesday's scare that saw defenseman Jay Bouwmeester down with an apparent cardiac episode, the St. Louis Blues will head to Las Vegas on Thursday bringing in better news as the 36-year-old is said to be responsive and doing very well.
Facing the Golden Knights, the Blues will try to stay poised as they put the unfortunate incident behind for a moment in order to take care of business. The Golden Knights will be read y for an onslaught on ice, fortifying their battle gears as backed by the NHL Betting Lines that project Vegas to come out as victors of the match.
St. Louis Blues
It was a traumatic sight when Bouwmeester suddenly fell from his bench as the Blues were battling the Anaheim Ducks on Tuesday. The team's medical team quickly came to revive the defenseman with a defibrillator as he was said to be unconscious after his drop. He was then sent to UC Irvine Medical Center where he is currently undergoing tests while recovering. With the decision to postpone the match, St. Louis is left with a precarious one-point edge over Colorado at the peak of the Central Division, 73-72.
Vegas Golden Knights
The Golden Knights are in pursuit of the top spot in the Pacific Division, trailing the Vancouver Canucks by just three points. Their chase, however, took a hit after they fell in their last two games including a disastrous 4-0 setback against Minnesota on Tuesday. It was a grueling stretch for Vegas after they played nine of their last 10 games away from home. Their return inside the T-Mobile arena could spell a flip in their fortune as they are now scheduled to begin a five-game homestand with four assignments being against teams outside the playoff bracket.
Odds and Trends
The Golden Knights are favorites at home with a -150 price to win. The Blues are tasked to defy a +130 money line.
The Blues are 10-3 in their last 13 Thursday games and 1-7 in their last 8 road games.
The Golden Knights are 4-9 in their last 13 overall and 0-4 in their last 4 games as a home favorite.
Over is 4-0 in Blues last 4 games as an underdog and 6-1 in Golden Knights last 7 games as a home favorite.
Prediction
Money line: Blues
Total: Under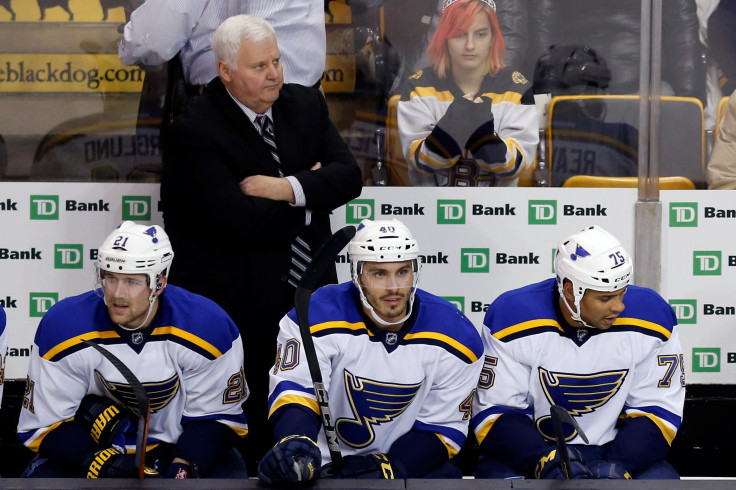 © Copyright IBTimes 2023. All rights reserved.