Nicaragua Unrest: Travel Warning Issued, US Embassy In Managua Temporarily Closed
The Embassy of the United States in Managua will be closed to visitors Tuesday as unrest intensifies in Nicaragua. It also asked people planning to travel to the strife-torn nation to reconsider the trip.
Thousands of protesters hit the streets of Managua and other cities Monday calling for the resignation of President Daniel Ortega and Vice-President Rosario Murillo.
The embassy in a statement released Monday said it would be closed for a day due to "anticipated demonstrations and traffic disruptions." It, however, will provide "limited emergency consular services by telephone." The embassy will soon reschedule all regular appointments. People who have prior appointments can avail routine citizen services like passports, reports of births abroad, etc. at https://evisaforms.state.gov. It also suspended routine visa services temporarily until further notice.
U.S. citizens were warned against participating in demonstrations as the Nicaraguan law prohibits foreign nationals from taking part in such forms of protests.
The statement read: "The U.S. Embassy in Managua reminds U.S. citizens in Nicaragua that several Nicaraguan laws could be construed to prohibit foreigners from participating in demonstrations, marches, and protests. Article 1 of the Nicaraguan Constitution prohibits foreign interference in Nicaragua's internal affairs. Likewise, the Migration and Foreigners Law lists two different activities that could render a foreigner's lawful residence in Nicaragua invalid: participation in national politics and/or participation in activities that aim to destabilize Nicaragua economically or politically. Nicaraguan authorities may enforce these laws against foreigners who participate in public protests. Additionally, we are aware of Nicaraguans with a second nationality who have received threats from Nicaraguan government officials due to their foreign nationality combined with their participation in recent demonstrations."
The embassy also advised government officials and U.S. citizens to maintain high level of vigilance and take appropriate measures to ensure their safety.
"U.S. Government personnel in Nicaragua continue to be advised to remain in their homes and avoid unnecessary travel, and when commuting to and from work are advised to avoid Rotonda Universitaria, the vicinity of all universities, Rotunda Metrocentro and a growing area near UNAN based on ever-expanding roadblocks and concerns of violence," it said.
The embassy added the U.S. government has not issued any order to evacuate citizens from the riot-hit nation and asked people to make personal arrangements to leave the country if they feel unsafe. People should restrict travel and remain in their homes or move to a safer location if their area is not safe, and they should avoid protest zones, the statement stressed.
Protests first erupted in the Central American nation on April 16 after the president announced social security reforms that introduced new taxes on old age and disability pensions and hiked social security contributions. Though the government revoked the move later, protests intensified across the nation demanding the resignation of Ortega. Clashes with security forces have led to the death of 76 civilians and left over 800 wounded so far.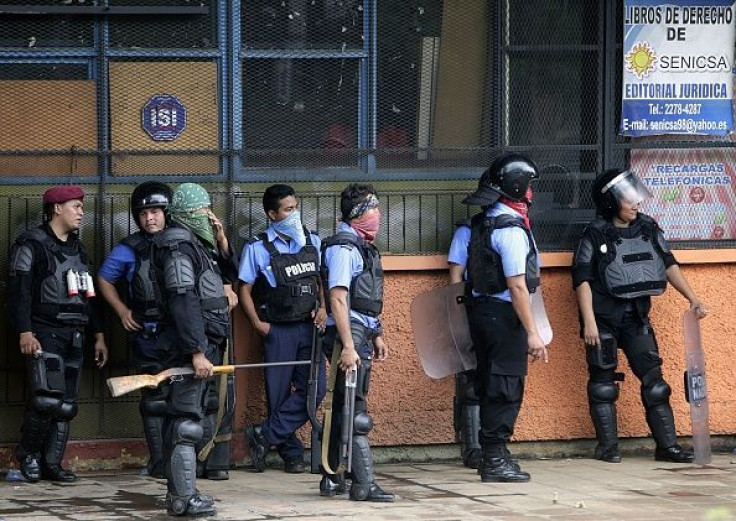 © Copyright IBTimes 2022. All rights reserved.
FOLLOW MORE IBT NEWS ON THE BELOW CHANNELS