Petrocaribe Holds 8th Annual Summit In Managua, Nicaragua; Why Is Maduro So Determined To Deepen His Influence In The Caribbean?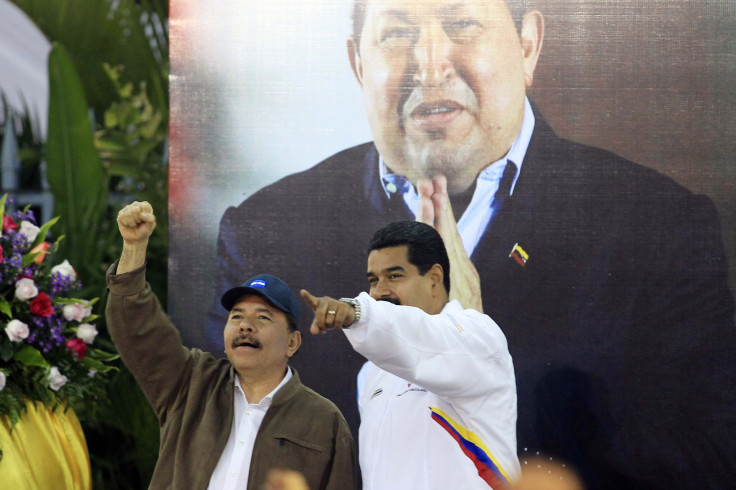 President Nicolás Maduro's drive to deepen Venezuela's influence in Latin America has once more reached into the Caribbean. Petrocaribe, a coalition of 14 energy-producing countries in Central America and the Caribbean established to strengthen their economies in the face of stronger competitors, celebrated its eighth summit on Saturday in Managua, Nicaragua. It was another opportunity for Maduro to solidify relations with countries that need Venezuelan oil, and that can provide relief for the serious shortages the country is suffering.
Maduro, who was sporting crucifixes with the image of his mentor and predecessor, the late Venezuelan Comandante Hugo Chávez, said Petrocaribe was a great stabilizer for the economies of the region. "It has been a protecting shield for the wellness of all our economies," he said.
Petrocaribe was started by Venezuela in 2005, as a regional project that allowed the country to have more influence around the Caribbean. Venezuela was joined in the coalition by Cuba, Nicaragua, Honduras, Jamaica, Saint Lucia, the Dominican Republic, Suriname, Antigua and Barbuda, Grenada, Guatemala, Haiti, Belize, Guyana, Dominica and the Bahamas. Under the agreement, Venezuela would provide oil to other member states at very favorable rates. In the last seven years, Venezuela has sold more than 232 million barrels of oil to the region, between governments and private companies.
The strategy has proven lucrative for not just Venezuela, which in exchange gets preferences in imports from the Petrocaribe countries – it has helped several of the other nations too. Nicaragua, for instance, has seen one its companies Alba de Nicaragua S.A. (Albanisa), grow into a regional giant. It was born as an oil cooperative between Venezuela and Nicaragua, under which 50 percent of the oil costs need to be redeemed in 90 days, whereas the other half is on credit for 23 years with a 2 percent interest rate.
In exchange, Nicaragua has given priority to export meat, dairy and black beans to Venezuela, which in 2010 were valued at more than $250 million. Through agreements like this, Venezuela has received more than 1.4 million tons of goods, said Maduro.
The members of Petrocaribe discussed several other issues, like the creation of a commission to promote literacy and the end of poverty, as well as scientific and transportation development and innovation – all under, as Maduro said, "the gaze of the Comandante Eterno (eternal ruler), Hugo Chávez."
© Copyright IBTimes 2023. All rights reserved.