Is Nicolás Maduro Finally Bowing To International Pressure? Venezuela To Pay Off $3.8B Debt To International Airlines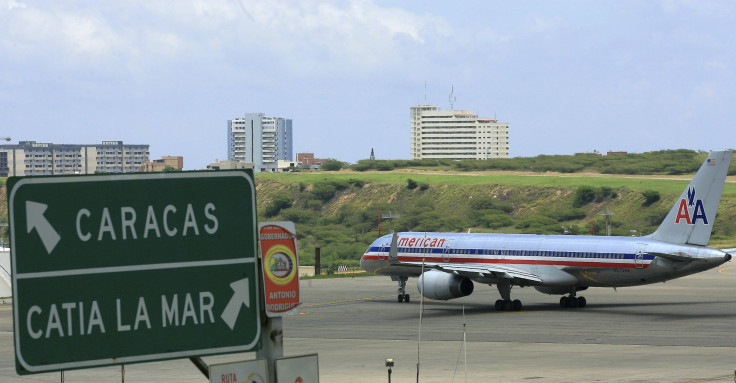 It has taken a year of commodity shortages, a plummeting currency, and even a corporate threat, but it has finally happened: Venezuela's President Nicolás Maduro has given in to international pressure. At least to some of it: Caracas recognized on Thursday the large debt the country owes to a group of international airlines, which the government had refused to pay off.
Maduro has decided to acknowledge a $3.8 billion debt accumulated since 2010 that had been systematically denied by the government. Although it is still unclear how it will be repaid, given the deep crisis faced by Venezuela since Hugo Chávez's passing last year, it shows the first signs of an exhausted government that has used up its strategy.
"This was a giant step," said Humberto Figuera, president of the Asociación de Líneas Aéreas de Venezuela (Venezuelan Association of Airlines, or ALAV), announcing the government's decision on television. What he did not say is that the acknowledgement comes in extremis: Venezuela was on the brink of losing aviation service.
The debt, like many problems faced by Venezuela today, is the result of autocratic practices started in the Chávez years. A law established in 2003, still current, decreed that all vouchers and services provided by international airlines be provided in bolívares, the local currency, which could not be changed to international currency without the government's approval.
When the economic crisis started to manifest in 2011, the government stopped granting permission to change the airlines' profits to international currency and be taken out of the country.
Several international air carriers threatened in January to discontinue their flights to Venezuela if the government refused to pay back the debt. Air Canada (TSE:AC.A) did so on March 18, canceling the three weekly flights between Caracas and Toronto. Other airlines, like Colombian Avianca (NYSE:AVH) and Central American Taca, reduced the frequency of their flights. European carriers, such as the German Lufthansa (ETR:LHA), assigned smaller planes than usual, allowing for less passenger traffic.
The International Air Transport Association backed the airlines' actions, saying that if the carriers were not paid for their operations they had every right to not fly to Venezuela.
Maduro, in his usual incendiary manner, said the government would cut off all commercial relationships with Air Canada. "Any airline that abandons Venezuela will not be allowed to come back," he said.
IATA Director General Tony Tyler said such an attitude was "not helping at all."
Venezuela does not have a national airline, and depends fully on the services of the 24 international carriers that fly to Caracas. The country had been negotiating with IATA since late 2013, and had offered several alternative solutions, like paying back the debt in state bonds or fuel, which were all rejected.
During the announcement, Maduro said that the debt would be paid according to the exchange rate at the time the debt was contracted: the 2012 debt will be paid on a rate of 4.3 bolívares per $1 and the 2013 debt will be paid on a rate of 6.3 bolívares per $1. The 2014 exchange rate remains to be determined.
This is the first time Maduro has accepted an international claim over mismanagement of Venezuela's affairs. This change of heart is a significant step forward, especially considering recent events, like the rejection of help from the Organization of American States and the breach in relations with Panama for suggesting the need for intervention.
© Copyright IBTimes 2023. All rights reserved.