Nigeria Chibok Kidnapping: Boko Haram Likely Killed Schoolgirls Last Month, Report Says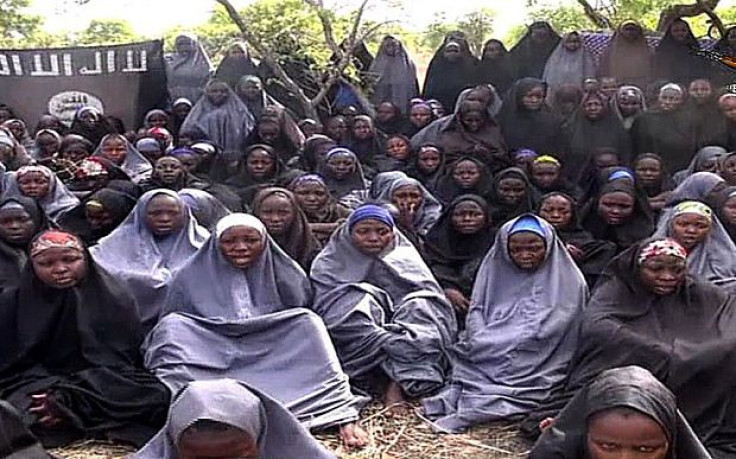 Muhammadu Buhari swore to rescue 276 Chibok schoolgirls kidnapped last year by Boko Haram if elected president of Nigeria. But Buhari, who last week emerged victorious in the presidential election by defeating President Goodluck Jonathan, may be too late to make good on that promise. The terror group possibly killed the girls prior to the election last month before fleeing areas in Borno state as the country's army and coalition forces moved in to recover the territories, according to Nigerian newspaper ThisDay.
U.N. High Commissioner for Human Rights Zeid Ra'ad al Hussein said Monday the female students -- who were seized from a boarding school in the northeast town of Chibok in April 2014 -- may have been among the group of females slaughtered by Boko Haram in Borno state last month. "The recent recovery of territories in northeastern Nigeria has brought to light macabre scenes of mass graves and more obvious signs of killings by Boko Haram," Hussein told ThisDay Monday, citing various reports that recently arrived at his office in Geneva. "These reports include the murder of the wives of combatants, women and girls actually held in slavery." A request for comment to Hussein by International Business Times was not immediately returned Monday.
Dozens of Nigerian women and girls have been abducted and forcibly married to the Islamic militants since 2014. The fighters were told last week to kill female captives they had taken as "wives," before Nigerian and coalition troops overtook Boko Haram headquarters in Gwoza, Agence France-Press reported.
Officials won't know for sure whether the mass graves contain the bodies of the Chibok schoolgirls until forensic evidence has been collected and tested. J. Peter Pham, director of the Africa Center at the Atlantic Council, said there was very little probability the girls have been kept alive since their kidnapping. "We can't be certain of who they are," Pham said Monday. "In a way, it's confirmation of what many of us had quietly feared for some time."
A 56-year-old woman who was recently released by Boko Haram said last week the schoolgirls were being held in Gwoza. But military sources said Monday there have been no sightings of the girls since liberating Gwoza, Bama and other northeastern towns in Borno state from Boko Haram, according to ThisDay. It is believed most of the girls kidnapped were Christian, although there were a number of Muslims among them.
"Unfortunately, on the Chibok girls, there is a strong lead that they might be among the women who were slaughtered by the fleeing terrorists and dumped into those wells in Bama," an unnamed military source told the Nigerian newspaper. "Remember, the girls were said to have been forcibly converted to Islam and married off as trophies to those terrorists. We have a strong suspicion that they are part of these women butchered in Bama and other parts of the territories, which were under their captivity."
Nigeria's presidential campaigns were largely focused on the Boko Haram insurgency in the northeast. President Goodluck Jonathan, who was seeking re-election, has been criticized for responding too slowly to the Chibok schoolgirls' kidnapping. A global campaign to find and rescue the missing girls caught fire on Twitter last year -- and still persists -- using the hashtag "Bring Back Our Girls," endorsed in part by high-profile political figures such as First Lady Michelle Obama, former Secretary of State Hillary Rodham Clinton and British Prime Minister David Cameron.
Buhari, a former military dictator, condemned the abduction in May 2014 and called on Nigerian security forces to put more effort into locating them, the Sun News in Nigeria reported at the time. Throughout his campaign, Buhari held out hope that the girls were alive and said last month that finding the girls should have been Jonathan's top priority, the Daily Trust in Abuja reported. Buhari vowed to rescue them if elected president.
Jonathan announced the recapture of the strategic town of Gwoza on the eve of the presidential poll but made no mention of the girls. Pham said it would not have changed the outcome of the election, in which Buhari won by a landslide. "By that point, people's minds were largely made up one way or another," he said Monday.
© Copyright IBTimes 2023. All rights reserved.