Nigeria Election 2015: Guide To Presidential Candidates, Key Issues, Voting Process, Voter Security And When To Expect Results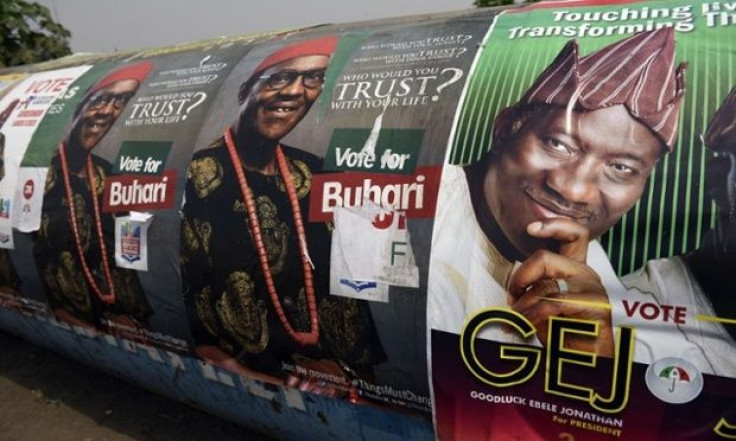 Nigerians will cast their votes Saturday in the 2015 national elections that polls suggest will be the tightest race in the history of Africa's most populous nation. Whoever wins must take on a slew of issues, including a worsening economy, intensified attacks in the northeast by the Boko Haram militant group and security concerns in the oil-producing south. Below is our guide to what you need to know ahead of the March 28 presidential election.
THE CANDIDATES: There are 14 presidential candidates on the ballot, but national polls have shown the race will come down to two: President Goodluck Jonathan, the incumbent, and his primary challenger Muhammadu Buhari. Jonathan, 57, is running for re-election and despite the 12 others vying for the presidency this race is essentially a rematch against Buhari. Jonathan won in a landslide victory in the last election in 2011.
But Jonathan's popularity has plunged in recent years amid concerns over national security and government corruption. Jonathan is a southern Christian from the petroleum-rich Niger Delta region and a member of the ruling People's Democratic Party (PDP), a conservative party that is generally considered center-right. Jonathan has faced criticism for alleged corruption and failing to end the Boko Haram insurgency. The incumbent has pledged to address both issues if re-elected.
Buhari, 72, is a former military dictator and a member of the All Progressive Congress, an opposition party formed to take on the PDP that is pushing for shared power between central and state governments. This will be Buhari's fourth time running for president, after running unsuccessfully in 2003, 2007 and 2011. Buhari is a northern Muslim from Katsina state. He last held public office in the late 1970s as the chairman of the Nigerian National Petroleum Corporation and the federal commissioner -- now called "minister" -- for petroleum and natural resources. Buhari took power in a military coup from 1983 to 1985, after overthrowing a democratically elected government. If elected, he has pledged to crack down on government corruption and reinforce Nigerian security forces.
KEY ISSUES IN THE ELECTION: Security, corruption and the economy are the crucial issues in Saturday's election. Boko Haram began its violent uprising in Nigeria in 2009, and the terror group now controls a vast swath of the country's northeast. The Islamist militants have spread their brutal attacks into neighboring Cameroon, Chad and Niger since February. Tens of thousands of people have died at the hands of Boko Haram insurgents, and one million others have fled their homes. Nigerians will likely cast their vote in part based on who will make them feel safe.
Corruption is a major issue in Nigeria. Nigeria generates some $70 billion in state revenue per year, and whoever wins the presidency will have a critical say in dispensing these funds. Under Jonathan's administration, over 70 percent of the federal budget is spent on public officials' salaries and benefits. Representatives from rural areas say they desperately need funding to improve education, health, transportation and commercial development.
Nigeria has recently become Africa's largest economy. The country relies heavily on the oil sector, with more than two-thirds of state revenue coming from gas and oil exports. But global oil prices have dropped more than 50 percent in recent months, choking Nigeria's currency. The country needs major reforms to diversify its sources of revenue beyond the oil sector. Neither candidate appears to have a clear plan for tackling Nigeria's looming potential economic crisis.
THE VOTING PROCESS: Nigerians will vote in the general elections March 28, which include the presidential and national assembly elections. The polls will feature a new voter card system that includes thousands of handheld computers in an effort to thwart ballot rigging and fraud. Nigeria's Independent National Electoral Commission has handed out the so-called Permanent Voter Cards (PVCs) to an estimated 70 million eligible voters. The PVCs contain biometric data including photographs and fingerprints. They are designed to be used along with 182,000 handheld electronic card readers distributed across the country.
As of March 17, about 82 percent of the new voter cards had been distributed. Election officials have struggled to roll out the cards in some states plagued by attacks from Boko Haram militants and other security issues. The nearly one million internally displaced Nigerians will be allowed to vote at alternate polling stations, according to the Independent National Electoral Commission (INEC).
"With the present level of our preparation, we will deliver free, fair, credible and peaceful general elections in 2015 that will be much better than the elections we had in 2011," INEC chairman professor Attahiru M. Jega told the Atlantic Council's Africa Center.
A candidate must get more than 50 percent of the vote and at least a quarter of the vote in two-thirds of the states in order to win the election. If no candidate wins by this measure, Nigeria will hold a runoff election seven days later.
VOTER SECURITY: Nigerian officials have beefed up security measures ahead of Saturday's general elections. Authorities announced Thursday the closure of all Nigeria's land and sea borders until after the election. The closure took effect midnight Wednesday and will hold through midnight on Saturday. Abubakar Magaji, permanent secretary in Nigeria's interior ministry, said the closure of borders was "to allow for the peaceful conduct of the forthcoming national elections," Al Jazeera reported.
Vehicular movement will also be restricted in Nigeria on Saturday from 8 a.m. to 5 p.m., and police officers will be meticulous in ensuring security during the general elections, according to Inspector-General of Police, Suleiman Abba.
"The IGP wishes to reassure the public of the commitment of the Force to the provision of round-the-clock security before, during and after the general elections for the teeming citizens of the country," Abba said in a statement, according to the Daily Independent newspaper in Lagos.
HOW NIGERIA WILL VOTE: Jonathan won 59 percent of the vote against Buhari's 32 percent in 2011. After the results were announced, Jonathan was accused of ballot rigging and 800 people were killed in violent riots in the country's northern states. This year, many northern Muslims support Buhari, while many southern Christians support Jonathan. Polls have predicted an almost deadlocked race between Jonathan and Buhari in Saturday's election.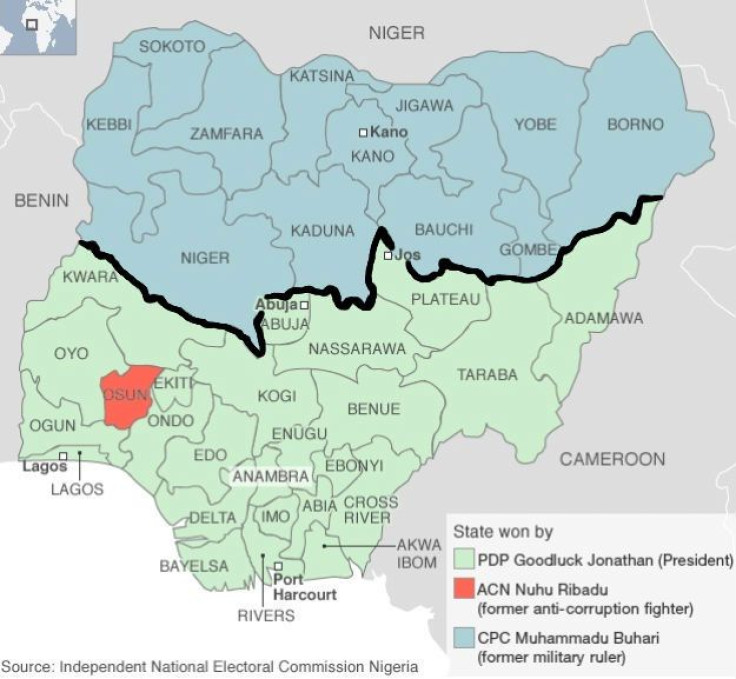 2015 ELECTION RESULTS: Preliminary results are expected sometime on Sunday, with clearer results on Monday, according to J. Peter Pham, director of the Atlantic Council's Africa Center. But concrete election results could take longer.
Jonathan and Buhari signed a peace accord Thursday, agreeing to avoid actions that could promote violence during and after the election. The two leading candidates signed a similar agreement in January, according to the Premium Times in Nigeria. But supporters of both candidates have vowed to wreak havoc if their candidate loses the presidential election.
© Copyright IBTimes 2023. All rights reserved.