Nigeria Elections: First Lady Says Opposition Leader Buhari's Brain May Be 'Dead,' Defends Boko Haram Fight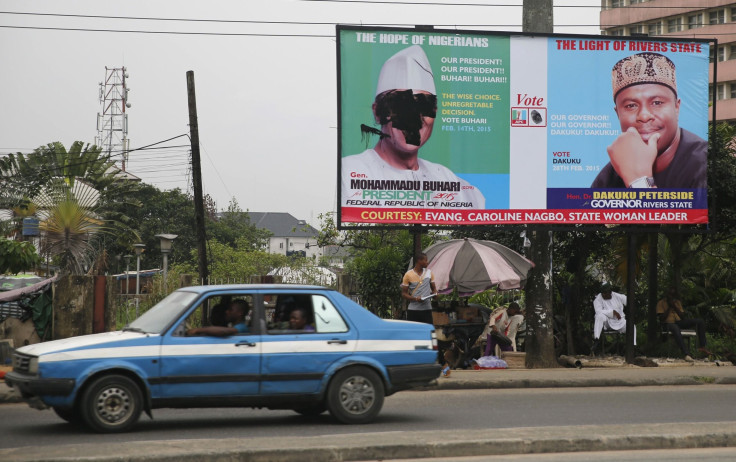 Nigeria's first lady has called on Nigerians to vote not for challenger Muhammadu Buhari but for incumbent Goodluck Jonathan in the country's presidential election March 28, as she claimed the opposition leader's brain may be "dead." Buhari, 72, would make an unfit president because he is too old to lead the nation, Patience Jonathan said at a campaign stop in Kogi state Tuesday.
"Vote for my husband, Jonathan. Do not vote for Buhari. He is an old man. People when they become old may not reason well, and their brain may even be dead," the first lady said, in remarks reported by the Nigeria-based news site Pulse.
Security has been a centerpiece of the hotly contested presidential campaign, with the two candidates clashing over how to handle the Boko Haram insurgency threatening Africa's largest economy, as BBC News reported. Buhari, a former military ruler of the country between 1983 and 1985, has challenged Jonathan over his handling of the Islamist militant insurgency in nation's northeast, which has expanded into a regional conflict as Boko Haram fighters have conducted cross-border attacks this year.
The first lady made a point of addressing Boko Haram during Tuesday's campaign rally, where she contended her husband's much-criticized efforts against the Islamist militant group were actually succeeding as many towns have already been recaptured by Nigeria's military, the Nigerian news site This Day Live reported.
However, the bulk of Patience Jonathan's remarks at the rally, organized by female members of her People's Democratic Party, or PDP, were devoted to addressing women's rights, which she said would suffer under a Buhari presidency. "This administration identified and reckoned with women," she said. "Women were empowered; they were given opportunities to serve the nation."
The first lady's dig at the president's chief political rival came on the heels of her controversial statements this week about the country's main opposition party, the All Progressives Congress, or APC. During a rally in Cross River state Monday, she told PDP supporters across the nation to stone to death anyone caught chanting the APC's campaign slogan, "Change," the Nigerian news site News 24 reported.
© Copyright IBTimes 2023. All rights reserved.