Nigeria Shuts Down Cattle Markets Allegedly Financing Boko Haram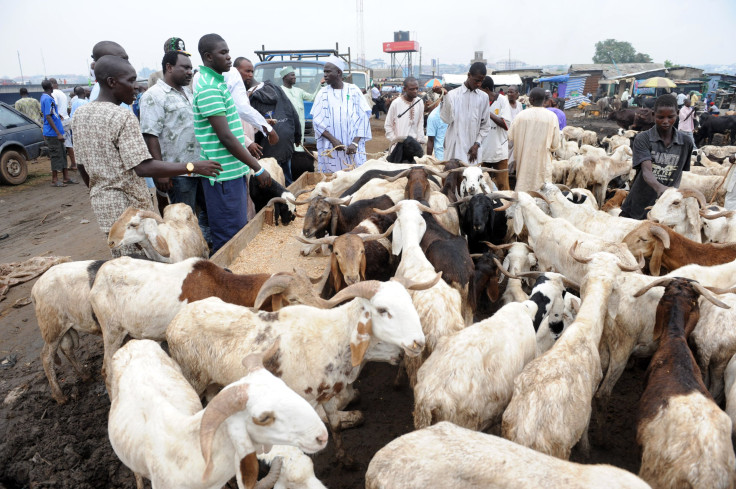 Nigeria has shut down four key cattle markets in the northeast, where the sales of stolen animals are believed to be helping finance Boko Haram's brutal Islamic insurgency. The governor of Borno state, the birthplace of Boko Haram, said Friday the militants are using "unscrupulous middlemen" to trade stolen cattle at the markets, according to Nigerian broadcaster Channels Television.
"All trading activities at the Gamboru cattle market, Dusuman, Shuwari and Ngom are suspended until further notice," Gov. Kashim Shettima announced Friday, the channel reported. "Our security agencies have reasonably established that most of the cattle being traded at the markets were the direct proceeds of cattle rustling perpetrated by Boko Haram insurgents, which were sold at prohibitive costs to unsuspecting customers through some unscrupulous middlemen."
Shettima handed out checks totaling 100 million Nigerian naira (about $502,000) to the community leadership of the cattle traders and butchers, many of whom have lost their jobs due to the recent measures. The funds are intended to purchase legitimate livestock that will be subject to investigation by a committee set up to monitor the activities of cattle traders and butchers and curb illicit dealings, according to Channels Television.
Gamboru, one of Africa's largest cattle markets located in the Borno state capital of Maiduguri, was shuttered by the Nigerian military nearly three weeks ago. Since then, some 20,000 animals have been locked in the main abattoir, where they are dying from a lack of food and water, Abubakar Abba of the Livestock Traders' Union told the Associated Press on Friday.
Gamboru was one of the last major cattle markets operating in northeastern Nigeria, where the Boko Haram insurgency has forced the closure of at least eight others. Cattle traders come to Gamboru from all over Nigeria as well as other West and Central African nations. Beef, a major source of protein in Nigeria, is no longer available in the region and cattle prices have surged at markets as far away as Lagos, the nation's commercial capital and megacity 940 miles southwest of Maiduguri.
"This clampdown has affected thousands of truck drivers, loaders, butchers, even water sellers. ... The consequences will be devastating," Umar Adamu, chairman of the United Butchers' Association, told the AP Friday, saying his organization has 12,000 members and the butchers' more than 200,000.
Since launching its insurgency in northeast Nigeria in 2009, Boko Haram has killed about 20,000 people and displaced more than 2 million. The Sunni extremist group was named the world's deadliest terrorist group by the 2015 Global Terrorism Index published by the Institute for Economics and Peace, a global think tank headquartered in Sydney. Boko Haram surpassed the Islamic State group, to which it pledged allegiance last year, for the gruesome title.
© Copyright IBTimes 2023. All rights reserved.
FOLLOW MORE IBT NEWS ON THE BELOW CHANNELS