In Nigeria, Starving Boko Haram Members Surrender In Borno State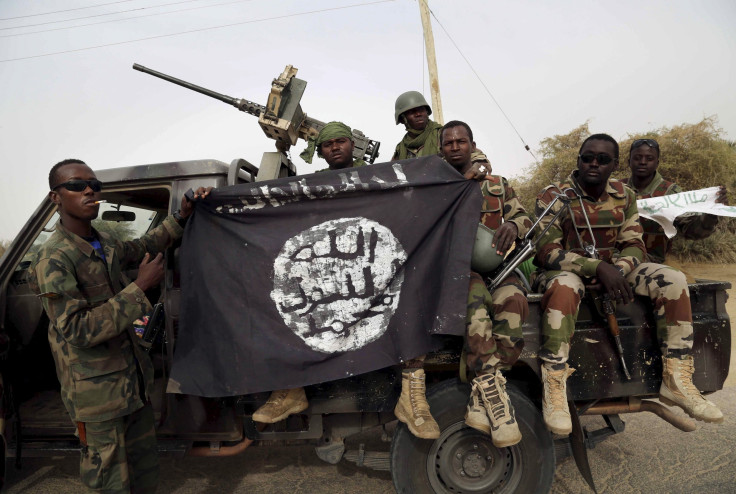 Dozens of starving Boko Haram members begging for food have surrendered in northeastern Nigeria, the military and a civilian self-defense fighter said Wednesday. Seventy-six members of the Islamic militant group, including women and children, gave themselves up to soldiers Saturday in the town of Gwoza in Borno state, the Associated Press reported.
Speaking on condition of anonymity, a senior military officer told AP the emaciated-looking detainees are being held some 60 miles from Gwoza at Nigeria's military headquarters in Maiduguri, the birthplace of Boko Haram's brutal insurgency. The prisoners said many more Boko Haram fighters want to surrender, a self-defense civilian fighter who helped escort them to Maiduguri told the news agency.
Food shortages among Boko Haram's members could indicate the Nigerian military is successfully choking supply routes of the Sunni extremists, who have expanded their rampages into neighboring Cameroon, Chad and Niger in the past year. Since launching its Islamic insurgency in northeast Nigeria in 2009, Boko Haram has killed about 20,000 people and displaced more than 2 million.
Boko Haram was named the world's deadliest terrorist group by the 2015 Global Terrorism Index, published by the Institute for Economics and Peace, a global think tank headquartered in Sydney. Boko Haram surpassed the Islamic State group, to which it declared allegiance last year, and was reportedly responsible for 6,644 fatalities in 2014 alone. Like the Islamic State group, Boko Haram seeks to establish a caliphate governed by Islamic law.
Nigerian President Muhammadu Buhari has made the war against Boko Haram a top priority. In the 10 months since he took office, Buhari has resupplied soldiers, replaced the entire military's top brass and moved its command center for the fight from the West African nation's distant capital, Abuja, to the heart of the Boko Haram insurgency in Maiduguri in Borno state.
The Nigerian military has made repeated claims of recapturing territory, winning skirmishes against Boko Haram and recovering weapons and equipment. In December, Buhari claimed Nigeria had "technically won the war" against Boko Haram because it could no longer mount "conventional attacks" against security forces or dense cities, and the militants were reduced to fighting in their last stronghold, Sambisa forest.
However, there is evidence against the military's claims insurgents no longer hold any territory in Nigeria. Meanwhile, Boko Haram has returned to hit-and-run tactics and suicide bombings, which have proved extremely deadly. The group may no longer physically control large swaths of territory, but its insurgency is thriving in the vast Sambisa forest and the mountainous border regions of Nigeria, Niger, Chad and Cameroon, where it continues to devastate local communities .
© Copyright IBTimes 2023. All rights reserved.