Nigerian Army Rescues 234 More Girls, Women From Boko Haram Camps In Sambisa Forest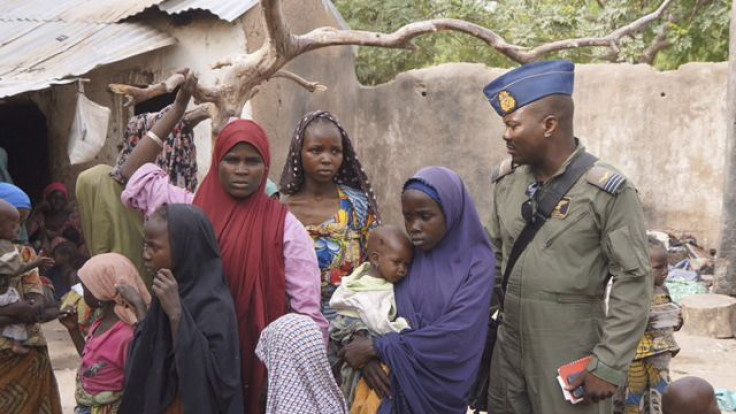 The Nigerian army rescued 234 girls and women from Sambisa Forest, a Boko Haram stronghold in northern Nigeria, according to the Nigerian Defense Headquarters' official Twitter account. The operation took place on Thursday, bringing the total number of women and children rescued this week to over 677.
Authorities reportedly said that the freed hostages were being screened to determine their identities, and army spokesman Col. Sani Usman said that most are traumatized from their time in captivity. However, it was not known if any of those freed are the missing schoolgirls kidnapped by the Islamist militant group from Chibok in April 2014.
Earlier this year, Borno state Gov. Kashim Shettima told a Nigerian newspaper that the schoolgirls were being held by Boko Haram in various camps within Sambisa Forest.
"The assault on the forest is continuing from various fronts and efforts are concentrated on rescuing hostages of civilians and destroying all terrorist camps and facilities in the forest," the military reportedly said.
The military had said earlier that its troops had destroyed 13 camps belonging to the Islamist insurgents in the Sambisa Forest, which covers more than 23,000 square miles -- mostly across Borno, Yobo, Gombe and Bauchi states in Nigeria's northeast.
The forest is the last holdout of the Islamic militants, President Goodluck Jonathan, whose term ends this month, said Thursday, according to the Associated Press, and pledged to "hand over a Nigeria completely free of terrorist strongholds."
Earlier this week, Nigerian troops had rescued 293 girls and women, and two days later about 160 others were freed.
Boko Haram has killed thousands of people since launching its brutal insurgency in northern Nigeria six years ago. The group, which aims to establish an ISIS-style government in the country's north, has abducted over 2,000 girls and women since the start of last year, and many have been forced into sexual slavery and trained to fight, Amnesty International said last month.
© Copyright IBTimes 2023. All rights reserved.