Nikkei, Asia Markets Close Lower Thursday on Continued Europe Jitters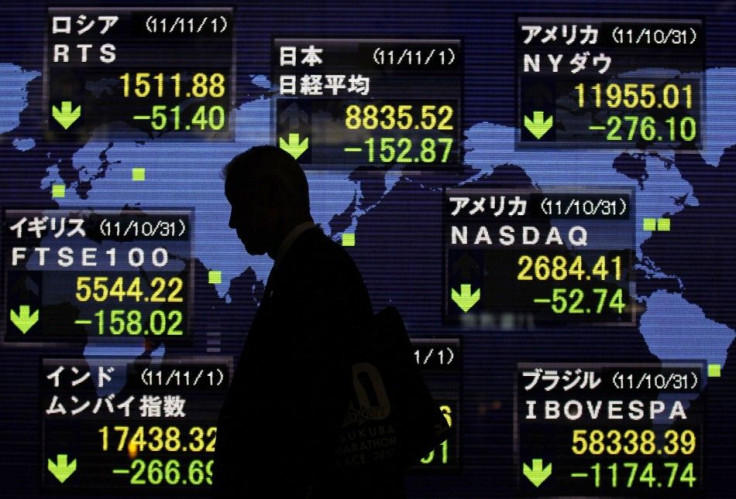 Japan's blue-chip index snapped a two-day winning run on Thursday and met strong resistance near its 25-day moving average, with the machine tools sector weighed down by a brokerage downgrade.
Industrial robot maker Fanuc Corp lost 3.4 percent and was the second-heaviest traded share by turnover after Bank
of America Merrill Lynch downgraded the sector to bearish, traders said.
The Nikkei average ended 0.8 percent lower at 8,395.16 before a three-day weekend, though it was flat for the week and the 25-day moving average near 8,459 was seen as a key resistance level.
Although credit fears about Europe in the short term have receded, it's not to a point where people are willing to take risks. Investors are saying they don't need to buy yet, and most people are just sitting on the sidelines and watching, said Hideyuki Ishiguro, assistant manager of investment strategy at Okasan Securities.

The Nikkei has suffered less intraday volatility this year than its counterparts in Europe, which is grappling with sovereign debt turmoil. Daily swings in the Nikkei have exceeded 2.5 percent for only 16 trading sessions in 2011, compared with 88 such days for the Euro STOXX 50 and 41 for the S&P 500.
On Wednesday, the European Central Bank's lending to banks eased immediate concerns about a credit crunch in the currency bloc, but analysts doubt the move would be enough to resolve the two-year debt crisis.
Even after the ECB's loans there is a sense this will not necessarily mean that the sovereign debt of those countries will be bought, said Toshiyuki Kanayama, a senior market analyst at Monex Inc.
Many foreign investors have left the market for the Christmas holidays and it's difficult to form new positions ahead of the three-day weekend.
The broader Topix index eased 0.4 percent as overseas investors continued to unload Japanese stocks.
Foreigners sold a net 210.6 billion yen ($2.70 billion) worth of stocks last week, down from the previous week's 587.7 billion yen, Ministry of Finance data showed.

In terms of valuations, the Topix carried a 12-month forward price-to-earnings ratio of 11.7, slightly more expensive than the S&P 500's 11.3, Thomson Reuters Datastream data showed.
However, the S&P 500 has only lost 1.1 percent so far this year, while the Topix has shed nearly 20 percent.
Among those which are set to become the worst performers in 2011 was Tokyo Electric Power Co, which has lost nearly 89 percent.
The stock advanced 5.2 percent on Thursday, however, after the utility company, which has faced a radiation crisis at its Fukushima Daiichi nuclear sparked by the March 11 earthquake and tsunami, said it plans to raise electricity rates for corporate customers in April.
Meanwhile, Southeast Asian stock markets were mostly steady to weaker on Thursday as short term players quickly booked profits amid weaknesses in Asia and nagging concerns over the euro zone debt crisis.
Doubts remained over how much of the funds that banks raised from an inaugural long-term European Central Bank tender would actually flow into struggling euro zone economies, pulling Asian shares broadly lower on Thursday.
Singapore's Straits Times Index ended down 0.32 percent. It was capped in negative terrain throughout the session, reversing Wednesday's 2.3 percent surge to one-week high.
MSCI's broadest index of Asia Pacific shares outside Japan fell 0.3 percent by 0843 GMT.
Other sharemarkets were choppy in a very tight range, with stocks in the Philippines and Indonesia ending flat and Malaysia finishing 0.4 percent higher.
Vietnam's main index dropped 2 percent to the lowest since May 2009. The Thai SET index was trading down 0.3
percent by 0900 GMT.
Turnover was drying up across the region as Christmas and year-end holidays approached.
In Bangkok, cash-rich domestic institutions bought shares to meet demand at the end of the year for retirement mutual funds (RMF) and long-term equity funds (LTF) that offer tax breaks.
Global sentiment remained fragile but funds adopted a stock picking strategy to make good returns, according to Yernyong Thepjumnong, equity fund manager of Krung Thai Asset Management in Bangkok.
Markets are still cautious of events in Europe. The euro zone issues will continue to be global challenges next year, but, if you look at companies, there are many good firms that look healthy, he said.
Among losers, Singapore lender DBS Group Holdings Ltd fell 1.6 percent after Wednesday's 3.9 percent rise and Thailand's PTT Global Chemical Pcl eased 1.2 percent, reversing a 2.5 percent climb on the previous session.
(Reporting by Dominic Lau, Mari Saito and Viparat Jantraprap.)
- -
© Copyright Thomson Reuters 2023. All rights reserved.