Nikola To Take On Tesla With Badger Pickup Truck: Why The Automaker Is Turning Heads
Tesla's Cybertruck may have another competitor to contend with as Nikola (NKLA) and its Badger pickup truck is making waves even before it officially hits the market in 2021.
Until now, Nikola has concentrated on the tractor-trailer market, offering electrified and fuel-cell powered on-highway trucks. But its most recent offering, which debuted in February, is an all-electric and fuel cell-powered pickup truck that rivals Tesla's Cybertruck, Rivian's R1T pickup truck, Ford's electric F-150, and GM's GMC Hummer EV.
Nikola just completed its combination with VectoIQ Acquisition Corp. and added its IPO to NASDAQ. Fueled by a tweet from Trevor Milton, who announced the Badger truck was taking reservations on June 29, the company's stock popped, giving it at one-point a valuation higher than Big Three-member, Ford's $29.9 billion valuation, before even bringing a vehicle to market, CNBC reported.
Nikola has said that it is working on an OEM partnership to deliver the Badger pickup truck to the zero-emissions industry, which Milton said will be available for walkarounds this year. He said, "You'll get to see a real operating truck, not a fake show truck. Expect stamped metal panels, functioning interior w/ hvac, 4x4, etc."
Founded in 2015, Nikola reportedly doesn't expect to turn a profit until 2021. It said that it has more than $10 billion in pre-order revenue with more vehicles coming as it plans to launch the Tre Class 8 BEV in 2021 and Two Class 8 FCEV in 2023 – both tractor-trailer models.
At the end of 2019, Nikola had about $86 million in cash, raising $500 million in private capital, including $150 million from CNH Industrial, weaving it into the Italian Agnelli family, Bloomberg reported. The electric truck maker also has plans to build a 1 million square feet production plant in Phoenix to produce trucks in 2021 with full production expected to reach 30,000 FCEVs by 2027 and 15,000 EVs by 2028, the news outlet said.
Shares of Nikola stock were up 10.04% as of 12:57 p.m. EDT on Tuesday.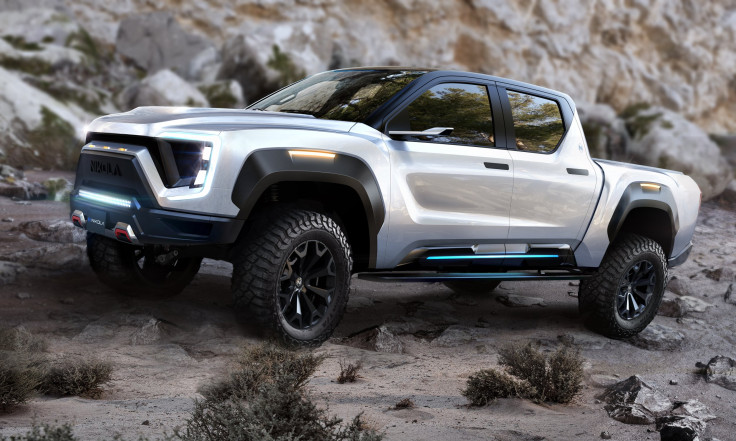 © Copyright IBTimes 2023. All rights reserved.