No Meat Used In V8 & Tomato Soup: Campbell's Addresses Controversy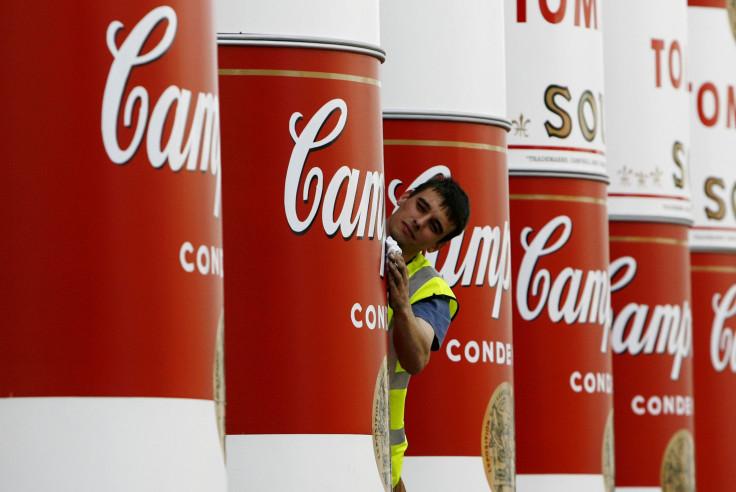 The controversy is over: There are no animal-derived ingredients in the iconic Campbell's products V8 vegetable juice or condensed tomato soup, the company said Wednesday -- though you wouldn't know it by reading its recent tweets. Responding to an outcry that quickly spread across Twitter's vegetarian and vegan user base over the past couple of days, Campbell Soup Co. (NYSE:CPB) spokeswoman Megan Haney told International Business Times that meat-abstainers can consume the thick red liquids with clear consciences.
"V8 100% Vegetable Juice and Campbell Condensed soup are products suitable for vegetarians and use flavorings made from plants. The flavoring in V8 100% Vegetable Juice product is a blend of herb and citrus oils and in Tomato Soup it's a blend of herb oils," Haney said via email. "They do not use any flavors derived from meat/seafood/poultry/dairy."
The remarks stand in direct contrast to earlier statements the company posted on one of its official Twitter feeds, a point that Haney conceded in her Wednesday comments.
"The information provided by our consumer care team in this instance was incorrect and we'll be reviewing our responses around this issue. We apologize for any confusion," Haney wrote, though she clarified, "We currently do not market any of our products as vegan."
That news should come as a relief to the group of vegan and vegetarian V8 and tomato soup customers who took to Twitter both this week and in January to express their concerns about the possibility that Cambell's includes animal-derived ingredients as part of the "natural flavoring" listed on some of its food labels.
The issue appears to have first emerged in January, when @JustAbtVegan asked the company via Twitter whether or not it uses animal products in its tomato soup. The company offered a vague response about none of its soups being vegan, and the dialogue had been over for several months:
But @JustAbtVegan restarted the conversation with a July 15 tweet, launching an exchange that raised even more concerns about just what ingredients Campbell's soups and juices contain:
The hubbub died down for a few weeks following that initial discussion, after the company said that "V8 100% Veg Juice & Tomato Soup are both vegetarian." The company did not explain at the time how that squared with their earlier claims, leaving vegans still unsure if the products were okay for them to eat.
The controversy was subsequently picked up on by Twitter user @VeganMeanie, who tweeted a warning on Aug. 4 about the potential use of animal products accompanied by a link to a Change.org petition asking people to "Stop sneaking animal products in our V8 and soup":
The story was then picked up by the influential Food Babe blog, which brought it greater renown and sparked yet another exchange with the food company Andy Warhol turned into an American classic.
The blog's official Twitter account, @thefoodbabe, tweeted a link to a story about the potential inclusion of animal products in V8 and Campbell's tomato soup, to which the company responded in a manner that again failed to satisfy vegans' concerns:
That's all history now that Campbell's has issued clarification about the ingredients in the two products, but the conversations can serve as a lesson for companies on how not to stay on social media.
© Copyright IBTimes 2023. All rights reserved.