Nolan Arenado Plans To Stay With Cardinals, Opting Out Of Contract Unlikely
Nolan Arenado has a chance to be one of the top players in next year's MLB free agent class. After being traded to the St. Louis Cardinals, the superstar isn't expected to seek a new deal following the 2021 season.
The Colorado Rockies gave Arenado an eight-year, $260 million extension just prior to the 2019 season. The deal includes an opt-out clause that would allow him to become a free agent heading into the 2022 season.
"There's a very high chance I will not be opting out. Very, very high. I didn't come here to do that," Arenado said on Barstool Sports' "Starting 9" podcast.
It was no secret that Arenado was unhappy in Colorado. Had the third baseman not been sent to St. Louis this offseason, he might've planned to hit the open market next winter.
Now, Arenado appears unlikely to forgo the remaining $179 million on his contract beyond 2021.
"I plan on being a Cardinal for the rest of the way out," Arenado said. "That's my goal."
With a $35 million salary for the upcoming season, Arenado is the fifth-highest paid player in baseball. His contract includes a $35 million salary each season from 2022-2024. Arenado will be paid $32 million in 2025 and $27 million in 2026 if he remains on his current contract.
Arenado will make $15 million in 2027 for waiving his no-trade clause and approving the deal between the Rockies and Cardinals.
If Arenado puts up his typical numbers during his first season with the Cardinals, he might command a contract worth close to $200 million in free agency. The 29-year-old was among MLB's most consistent stars in Colorado.
Prior to the truncated 60-game season in 2020, Arenado made five straight All-Star teams from 2015-2019. He hit at least 37 home runs with 110 RBI in each season while never playing fewer than 157 games. Arenado posted a batting average north of .286 with a minimum .561 slugging percentage in all five years.
In just 48 games last season, Arenado hit .253./.303/.434 with eight home runs and 26 RBI. The Rockies finished eight games below .500.
Arenado goes from a franchise that has never even won a World Series game in its history to one of the sport's top organizations. The Cardinals earned a wild-card berth in 2020, reaching the playoffs for the seventh time in a decade.
St. Louis last finished with a losing record in 2007.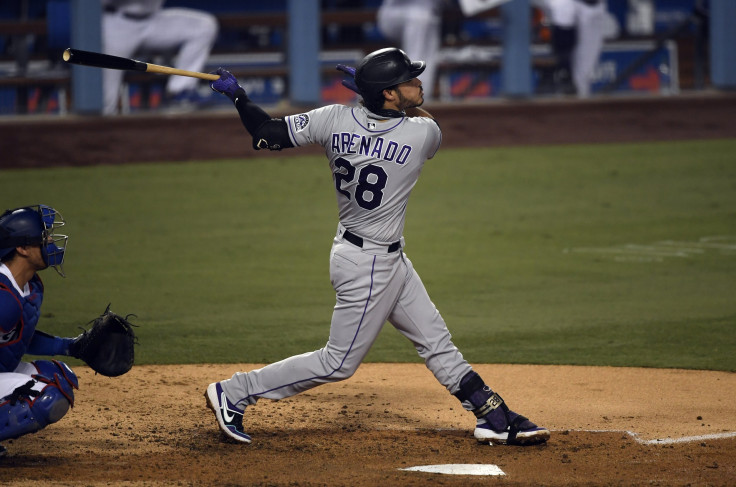 © Copyright IBTimes 2023. All rights reserved.