For The Non-Royal British, Child Poverty Rates Soaring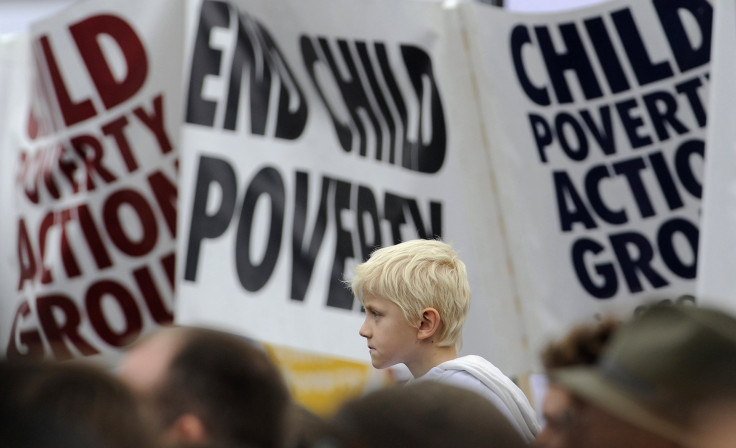 As much of the United Kingdom (and places far-flung) await the birth of the baby of the Duchess and Duke of Cambridge, for less fortunate British children, life is getting much harder. The economic crisis engulfing much of Europe and Britain has taken an especially brutal toll on children, with child poverty rates in the UK reaching a crisis level. Government statistics indicate that at least one in six British children live in poverty – and this rate could reach one in five by the end of the decade.
According to data released last month by the Department for Work and Pensions, in 2011-2012, 2.3 million children in Britain (17 percent of the total) lived in homes whose incomes fell substantially below the average for the country. When the data accounts for the payment of housing costs, the poverty rate climbs to 27 percent (3.5 million children). That latter figure would suggest that in just one year alone, 300,000 children slipped into the ranks of poverty.
The definition of "poverty" depends on the source. The coalition government (as well as the opposition Labour Party) defines poverty by using the concept of "relative poverty" as families whose annual incomes are at least 60 percent below the current level of "median net disposable income" -- which is presently a maximum of £250 ($383) per week. But anti-poverty campaigners believe this definition fails to gauge the true scope of indigence in the country. Matthew Reed, chief executive of the Children's Society, a prominent child aid charity, uses the term "absolute poverty" and estimates there are at least 2.4 million such British children living in this condition.
Regardless, Prime Minister David Cameron's government has vowed to eliminate child poverty by 2020.
Naturally, the recent data has triggered criticism from the left. Liam Byrne MP, Labour's Shadow Work and Pensions Secretary, said: "The devastating verdict is in: In just one year, this government has pushed a million people into absolute poverty, and progress in tackling relative child poverty has completely stalled. All of Labour's good work in tackling poverty is being washed away by a Tory cocktail of incompetence and indifference."
Moreover, data suggest that Britain is indeed a very divided society-- rates of child poverty differ dramatically by parliamentary constituency. For example, according to a study by the End Child Poverty campaign, almost one-half (47 percent) of children in Manchester-Central live in households where the guardians make less than 60 percent of median income. By contrast, less than 5 percent of children in Sheffield-Hallam reside in such households. Other areas with very high child poverty rates included Belfast–West; Glasgow-North East; Birmingham-Ladywood; Bethnal Green and Bow (in East London); Liverpool-Riverside; Poplar and Limehouse (in East London); and Middlesbrough. Enver Soloman, chairman of End Child Poverty, said the survey's results reflected "gross levels of inequality."
Research from another charity, Save The Children, spelled out the lifelong deleterious effects of poverty, a condition that forces parents to sometimes cut back on food, skip meals, and not replace children's shoes or winter coats, etc. "Far too many children whose parents are struggling to make a living are having to go hungry and miss out on the essentials of a decent childhood that all young people should be entitled to," said Solomon. "The government must also closely examine its current strategy for reducing poverty and consider what more it could do to ensure millions of children's lives are not blighted by the corrosive impact that poverty has on their daily existence.''
In an opinion piece in the Guardian, Kate Pickett, a professor of epidemiology in the Department of Health Sciences at the University of York, noted that child poverty is far worse in the UK than in other developed nations, even in countries with lower per capita income, like Hungary. "So persistent and high levels of child poverty [in Britain] are not about economic growth -- they are about how that growth is shared out and the choices we make in terms of goals and policies," she wrote. "Poverty has a profound impact on children, on their families, and on the rest of society. What happens in early childhood affects physical, cognitive and social development and sets children on a lifelong trajectory encompassing educational attainment, economic participation, and physical and mental health."
Indeed, the ultimate financial cost of child poverty accrued to the taxpayer could be staggering. According to a study by Donald Hirsch, director of the Centre for Research in Social Policy at Loughborough University, by the end of the decade the annual cost to taxpayers arising from child poverty could reach £35 billion -- or about 3 percent of GDP – an amount that would exceed the estimated cost of the proposed HS2 high-speed-rail network system.
© Copyright IBTimes 2023. All rights reserved.